EastEnders' Shane Richie has said that while he and co-star Jessie Wallace are playing their Albert Square characters Kat and Alfie in their new Irish series Redwater, the show is a "dark psychological thriller" - and far removed from the soap's infamous 1997 visit to Ireland.
The eagerly-awaited six-part series, which was filmed in Dunmore East, Co Waterford and Co Wicklow over five months last year, is due to premiere on BBC and RTÉ in May.
We need your consent to load this rte-player contentWe use rte-player to manage extra content that can set cookies on your device and collect data about your activity. Please review their details and accept them to load the content.Manage Preferences

It tells the story of what happens when Kat and Alfie visit the Kellys and Dolans in the fictional Irish village of Redwater in search of Kat's long-lost son.
Downton Abbey's Maria Doyle Kennedy, Lost's Fionnula Flanagan,The Commitments' Angeline Ball and Ian McElhinney from Game of Thrones  are among the cast of the drama, which is a co-production with Dublin company Element Pictures
Richie was a guest on the Ray D'Arcy Show on Friday, where he told the host that Redwater would offer something "very different" from EastEnders.
"It's interesting because looking back on the show now, we don't mention Walford, we don't mention the Queen Vic, we don't mention Albert Square," he explained.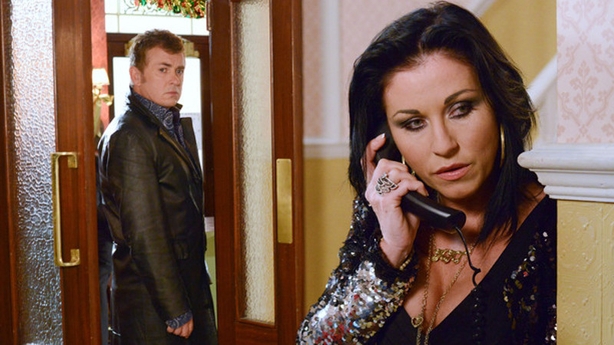 "I'm the only one calls her Kat - everyone else calls her Kathleen. And the only reference I make to the history of Kat and Alfie is when we go into a bar and Stanley Townsend, the wonderful actor who plays the pub landlord, says, 'Alfie, do you know your way 'round the pub?' And I give Kat a look and I go, 'Yeah, kind of'. That's the only reference we make to Alfie's history."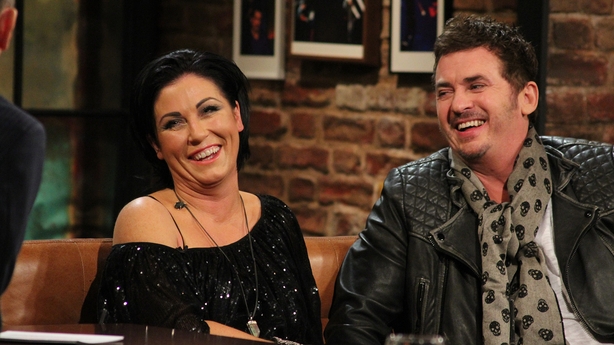 Richie described Redwater as "a standalone story - even without Kat and Alfie in it".
"It's about this Irish family that are living in this fictitious town of Redwater that have this dark secret," he continued. "And Kat and Alfie kind of turn up in the middle of their story.
"The only thing I can compare it to right now is... Imagine Kat and Alfie turning up in Broadchurch with a bit of [The] Wicker Man thrown in for good measure."
Richie said the aim is for Redwater to find an audience beyond Albert Square regulars.
"I'm hoping fans of Kat and Alfie will tune in for the mere fact that they are fans of Kat and Alfie and fans of EastEnders!" he laughed. 
"I think what the BBC have been very clever about is to try and crossover and find people who are fans of serious drama that won't necessarily watch EastEnders."
"And, of course, we've got people like Fionnula Flanagan, Stanley Townsend, Angeline Ball, Maria Doyle Kennedy, all these wonderful actors that have got a profile in America.
"So they've been very clever to use a lot of these Irish actors who do have a profile in America, and hopefully it'll get shown in the States."
The lady's of #Redwater @SusanAteh @mariadkennedy @AngelineBall 🇮🇪🍀🎬❤️ pic.twitter.com/M0noc4dMO3

— Jessie Wallace (@JessieWallaceUK) June 2, 2016
Richie, who is back in Ireland next month for the thriller Not Dead Enough at the Bord Gáis Energy Theatre, said that he had the "best time ever" filming Redwater in Dunmore East. 
Almost time to say goodbye ❤️ #dunmoreeast pic.twitter.com/4Yu1ekp2tY

— Shane Richie (@realshanerichie) June 29, 2016
"It's one of the best kept secrets, I personally think, in that part of Ireland," he enthused.
"When we left it was kind of we opened up the floodgates and listen, God willing, this show Redwater's a success and the town of Dunmore East make a few quid out of the tourists. Hopefully the Americans [will be] flocking in their millions. [Adopts American accent] 'Yeah, I was born right here. I think my great great-grandfather was a fisherman right here!'"
Sunday lunch in Ardmore ❤️☘ pic.twitter.com/2Lpoi822qR

— Jessie Wallace (@JessieWallaceUK) May 29, 2016
Richie, whose parents hail from Dublin, reassured listeners that Redwater has nothing in common with the fiasco that was EastEnders' 1997 Irish sojourn, which drew the wrath of viewers here and in the UK. 
"Quite rightly," he said. "I wasn't in the show then, trust me, if I had've been... Wild donkeys running up and down the street and everybody just being drunk and the Gardaí getting calls!
"But the flipside of that is, back in the day, EastEnders had become a cliché - all the Cockneys [adopts Cockney accent] and talking like that and being gobby.
"And, of course, if you're on the outside looking in it can be fairly derogatory and anybody living in the East End knows that's not a true representation of East London - pretty much the same that wasn't a true representation of Ireland at the time. So this is very different; this is very different."
Some secrets are best left alone #Redwater pic.twitter.com/dy5vEYPlwy

— Shane Richie (@realshanerichie) May 30, 2016
"I'm very proud of my Irish heritage," Richie continued. "My real name is Roche. My dad's from Coolock, my mum's from Whitehall. All my family are in Dublin - there's thousands of them...
"I was always told - and I believe it to be true because my mum was a bit younger than my dad - I was conceived in a car park in Dublin and then brought over to a little fishing village called Kilburn!" 
At the end of the interview Richie also revealed that he is working on a new album and has his eye on an Irish music legend as a special guest.
"I want to do a duet with Christy Moore," he told D'Arcy. "Do you think he'd do it with me?"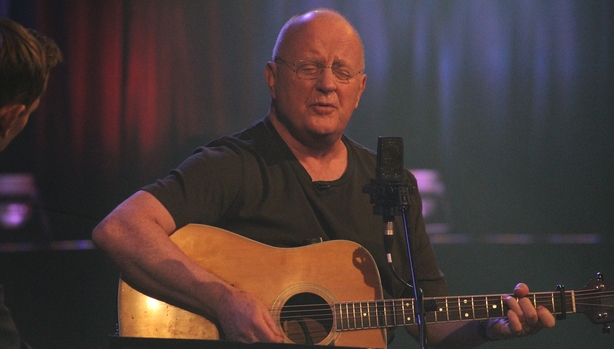 When D'Arcy explained that Moore often listens in to the show, Richie made his pitch. 
"Christy if you're listening, I'm doing an album and I'd love you to do a duet with me," he said.
"How about me and him do a cover of Wild Wood by Paul Weller? How cool would that be?
"I love that song and Paul's a mate of mine and there's an opportunity of me recording an album of doing similar stuff. And I remember when I heard it I went, 'Oh, me and Christy Moore would do a great version of this...'  
D'Arcy then promised Richie he would text Moore after the programme to tell him about the proposal - on condition that they perform the song live on the show if the collaboration comes to pass.