Mahershala Ali has made Oscar history after becoming the first Muslim actor to win an Academy Award.
The 43-year-old American actor was named Best Supporting Actor for his performance in coming-of-age drama Moonlight.
During his acceptance speech, Ali did not mention US president Donald Trump's travel ban on seven Muslim majority countries, which has been a hot topic at awards shows in recent weeks.
Instead, he paid tribute to his wife Amatus Sami-Karim, who had given birth to their first child Bari Najma four days earlier.
"My wife was in her third trimester doing awards seasons, we just had a daughter four days ago. I just want to thank her for being such a soldier through this process," Ali said.
We need your consent to load this Facebook contentWe use Facebook to manage extra content that can set cookies on your device and collect data about your activity. Please review their details and accept them to load the content.Manage Preferences
Ali had previously spoken about his Muslim faith when he won the Screen Actors Guild Award for Best Supporting Actor last month.
He said his mother "didn't do back flips" when he converted to Islam 17 years ago but they quickly realised "that stuff is minutiae, it's not that important".
"We see what happens when you persecute people - they fold into themselves," he said at the SAG Awards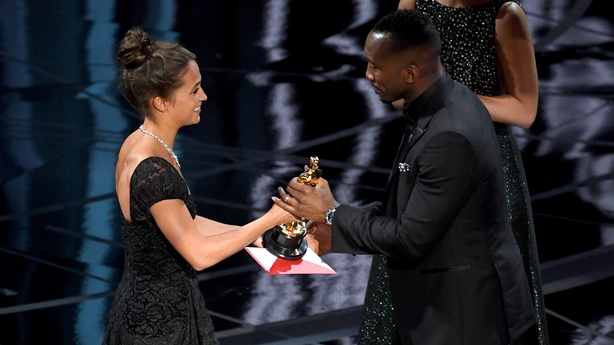 ."I'm so grateful to have the opportunity to play Juan who saw a young man folding into himself as a result of persecution in his community and took the opportunity to tell him that he matters, that it was OK and he was accepted.
"I hope we do a better job of that."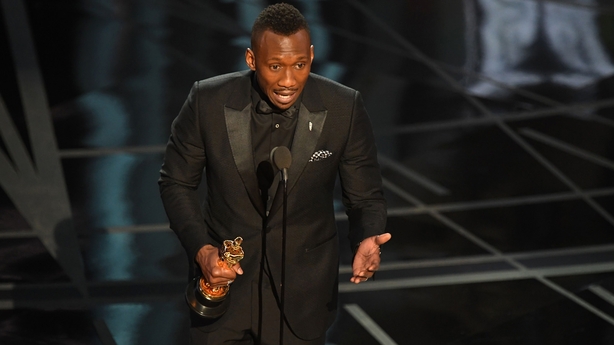 After his Oscar win was announced, Ali embraced Moonlight director Barry Jenkins and buttoned his tuxedo jacket on his way to the stage.
"My grandma would want me to button up," he said.
"I want to thank my teacher and my professors, they told me is that it's not about you, it's about the characters, you are in service to your character and your stories, I'm so blessed to have had this opportunity."