To celebrate Valentine's Day we've trawled through the archives to bring you some of the most memorable and (obviously) cringey Irish romantic moments from television and the movies. Grab the smelling salts.
Well holy God!
Before Sean Spicer's press conferences, nothing had us quite as transfixed as the blossoming relationship between Biddy and Miley on Ireland's favourite soap, Glenroe. When Miley eventually got fed up of "beating round the bush" (steady) and eventually proposed, RTÉ and the national grid braced themselves as about 97% of the entire population of the country tuned in the see the Wedding of the Year in 1985.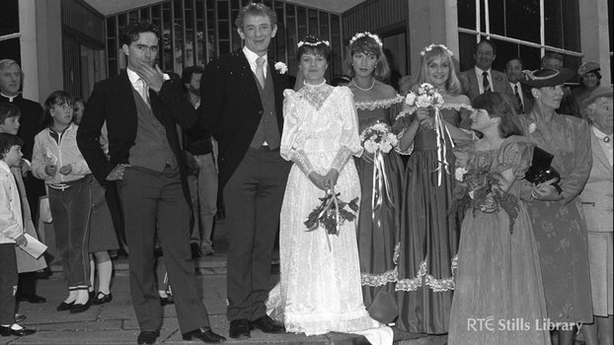 Of course, as we entered the more morally lax 90s, what with divorce now a thing, the good times couldn't last. This time around 104% of the nation were aghast as saintly Miley forgot his wedding vows and went for an infamous roll in the hay with that tramp Fidelma. The racy encounter that shocked the nation took place while Biddy slept-off a hangover upstairs.
But true love survived. In the final series, Miley's struggle to come to terms with his wife's sudden death in a car accident dominated the show.
You're a Corker Shannon
There is soooo much wrong with the Tom Cruise movie Far & Away that we could be here all day. What with Cruise's apocalyptically bad Oirish accent, ropey dialogue ("tell me ya like me hat"), and the laughably bad on-screen chemistry between him and his then wife Nicole Kidman, it's so awful there is an entire plot in hell dedicated to it.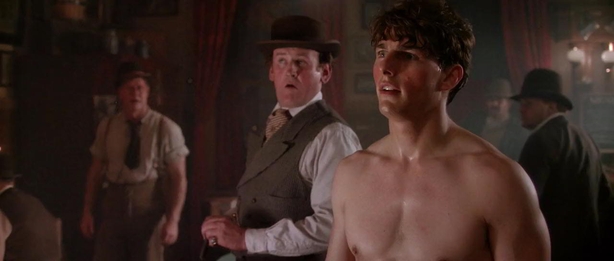 But if it's to be remembered for one thing (and that's pushing it) it's the declaration of love by Cruise's character Joseph Donnelly in the most charmingly Oirish way possible - "you're a corker Shannon, you're a corker you are". Sweet Jesus.
No, no, no, no, no, no, NO!
This has to be one of the cringiest on-TV proposals that has ever taken place. EVER. In 2013 New Orleans Rose, Molly Molloy Gamble, was utterly stunned when her boyfriend Kyle Catlett got down on one knee and popped the big question in The Dome in Tralee before a transfixed and somewhat perplexed live television audience.
Shaking from head to toe the poor girl told him "no" ELEVEN times, before she told him to get up off the floor. However all's well that ends well as Molly's negative reaction was only down to the shock of being proposed to on live television in front of her family (cue the crying grannies) and she did of course say yes, and they lived happily ever after. Thank god.
Bridget gets the ride off Eamon
Back to the 1980s for more saucy shenanigans now. Before its much lamented demise, Republic of Telly provided us with some great moments and none better than the sketches from its breakout stars of Bridget & Eamon written and performed by Jennifer Zamparelli and Bernard O'Shea.
One of the best sees Bridget setting out to seduce her reluctant hubby and uses everything in the 1980s handbook including Magnum PI, The Lovers Guide, a few glasses of Merlot and of course the ultimate boom chicka wah wah soundtrack from that godfather of lurve Declan Nerney. As Eamon rightly says "there's nothing like the Nerney to make you horny!".
Horse trainer gets frisky
Poor old Tracy Pigott. Nothing could have prepared her for this response when she went to interview veteran horse trainer Peter Casey after he grabbed his first Grade One success in the Arkle Novice Chase at Leopardstown.
The giddy Meath-man was being interviewed live on air and stunned Tracy with his reaction to the day's great win. "It's unreal, I can't believe it. I'll have f****** sex tonight" came the now-legendary response.
Despite Peter admitting afterwards that he didn't know what YouTube was, he enjoyed massive new-found fame after the incident became an instant internet sensation. He revealed that his wife Janey had forgiven him for his over-enthusiastic outburst and told RTÉ Radio the following day "I'm over 70. I'm over 72 or 73. I'm still very active."
Please note there is some eh colourful language in the clip below: