Oscar nominee Viola Davis has said she's heartened by the growing diversity in the movie industry and says she sees great changes happening in Hollywood.
The actress is the raging favourite to win the Best Supporting Actress Award this year and is among a very diverse range of nominees, which is a dramatic reversal of the #OscarsSoWhite controversy that plagued the awards last year.
Davis has often spoken about the need for diversity in film, and she said that she isn't too concerned about how quickly change is affected, she just cares that it is happening.
"I don't mind fast enough I guess at this point, I just care that it's happening," Davis exclusively told RTÉ Entertainment.
"I think what's happening is people of colour are understanding that they have to be the change that they want to see, that they have to take the reins. And not just the people that are creating the movies or are in the movies – people who are seeing the movies."
Watch our full interview with Viola Davis here:
We need your consent to load this rte-player contentWe use rte-player to manage extra content that can set cookies on your device and collect data about your activity. Please review their details and accept them to load the content.Manage Preferences
Davis' performance in Fences has not only earned her an Oscar nomination, but also Golden Globe and Screen Actors Guild Award wins, and a Tony Award for her performance in the play on Broadway. She said she is glad that this "extraordinarily universal story" is being seen by audiences.
"I find a lot of times with movies with a predominantly African-American cast; people feel like it's only extended to the African-American experience and community, when in fact this is an extraordinarily universal story. So it makes me happy that it's reaching the masses," she said.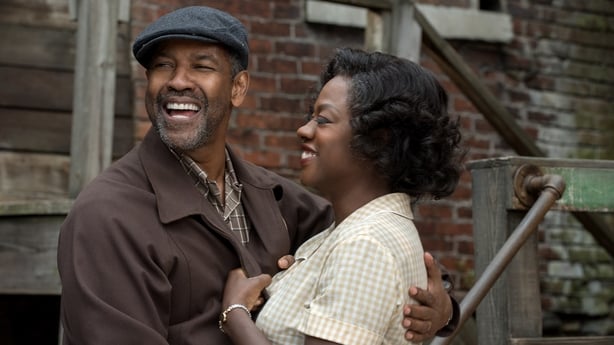 During her stint with the August Wilson play on Broadway, Davis was joined on stage by Denzel Washington, who both stars in and directs the film adaptation.
When asked if their dynamic changed with him in the director's chair, she said, "It didn't change it at all, I trusted him. We did 114 performances in New York.
"See here's the thing about Denzel; he is an actor's director. He is into the actor, our face, what we do, our gifts, our talent. He's not into getting that shot of the tree and the leaf falling and saying, 'Ok just stand right there because I want to get the tree, but I like your body next to the tree.' He is way more interested in the actor and the human being, so I trusted him, that's what I did, I trusted him."
Fences hits cinemas on February 17.