This week's Dancing with the Stars was a Valentine's special and opened with host Amanda Byram looking stunning in a fuscia-pink off the shoulder jump suit with a cape.
And when the dancing action started it was obvious that this was going to be a night to remember . . . and not a happy one for a dancer with a cape, the departing Des Bishop.
Teresa and John. Soaring one minute, gondola the next
Performing a foxtrot to the Nancy and Frank Sinatra classic Something Stupid, Teresa and John's performance was set in the utterly romantic Italian city of Venice, with John dressed as a gondolier.
"It took a bit of work," a breathless Teresa admitted afterwards.
The judges felt the dance was a little on the safe side, with Loraine describing the performance as a "good job – needs to be better," while Darren told Teresa it was "probably your best dance".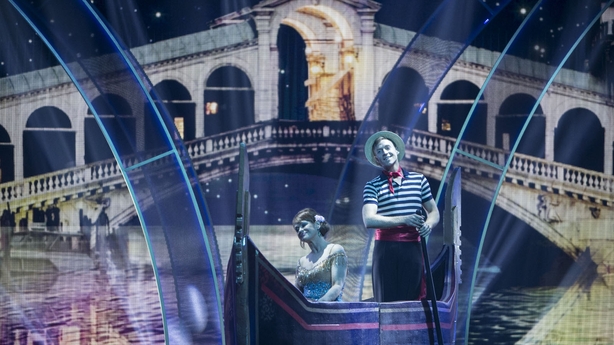 Aoibhín and Vitali score big with serving of meatloaf
The party really got going when Aoibhín Garrihy/Vitali performed a jive to Meatloaf's Dead Ringer for Love, with Aoibhín's hair piled up like a Teddy Boy.
It was a very energetic performance that went down a storm with the audience. "Last week was intense and stressful. This week I just wanted to have the craic," said Aoibhín.
The judges were full of praise. "You guys really rocked the floor tonight," said Darren. "The best female jive so far," said Brian. Loraine: "I loved everything you did."
Loraine then gave them a ten, with a total of 28 – the highest of the series so far.
Aidan and Valeria bring sexy black with the Tango
Aidan and Valeria danced a tango to Phil Collins' Easy Lover and they looked really classy with Aidan in black and Valeria starting in a black suit but ending up in a red dress.
Afterwards, the judges were pretty upbeat about Aidan's performance. He certainly looked the part.
"You're definitely improving," said Brian, while Loraine smiled and said: "I do feel that confidence is coming . . . I like it."
Darren wasn't so impressed. "Not sure if I really loved it," he said.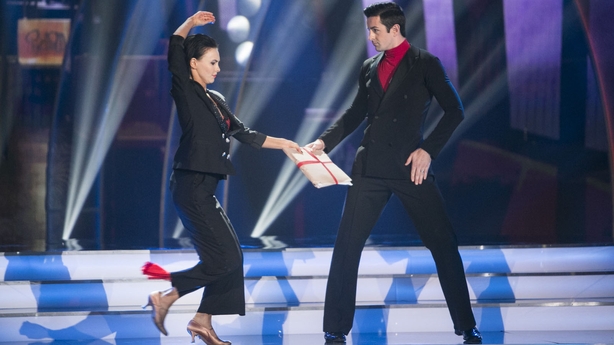 Katherine and Kai ease their way up the board with Grease lightning
These two did a quickstep to You're the One That I Want from Grease, with Katherine wearing a prom-style dress rather than the leather jacket and satin trousers Olivia Newton-John wore in the film.
"I do put in a few hours of training on my own," said Katherine, "as I literally don't know my left foot from my right."
"You're brilliant. You really are," said Loraine, while Darren complimented the couple: "The interplay between you is always spot-on" he insisted.
"Overall, I really like what you bring to this show," added Brian.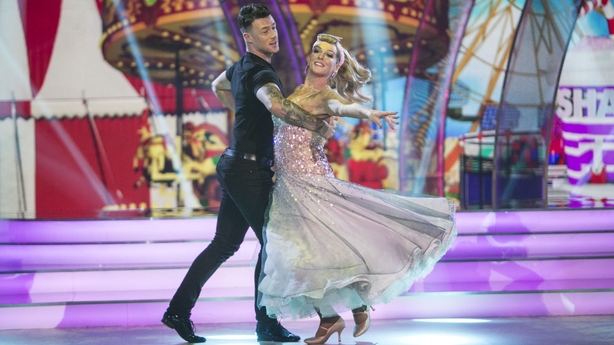 Dayl and Ksenia spare no blushes in pink
Performing a foxtrot to Marvin Gaye, Ksenia looked amazing in a pink dress, while Dayl looked razor-sharp in a pink shirt and black trousers. But would the judges be as impressed?
Darren felt they "didn't quite get it on for me," while Brian felt that Dayl was "trying too hard to get your feet right" but was very encouraging of the couple's efforts so far.
Such bull. Des and Giulia get the boot after the judges sing Olé
Dancing the paso doble to U2 song When Loves Comes to Town with Giulia, Des Bishop was dressed as a matador and made a dramatic entrance with a cape. There was no bull about this performance and the judges agreed.
Brian said that he was "Quite happy with the performance, adding that he feels Des is "becoming a contender". Loraine also praised Des. "You are that matador – keep it going," she said.
But Darren topped it all by saying that Des had "gone from comedian to competitor".
Sadly, the general public didn't agree as they voted Des and Giulia off the show.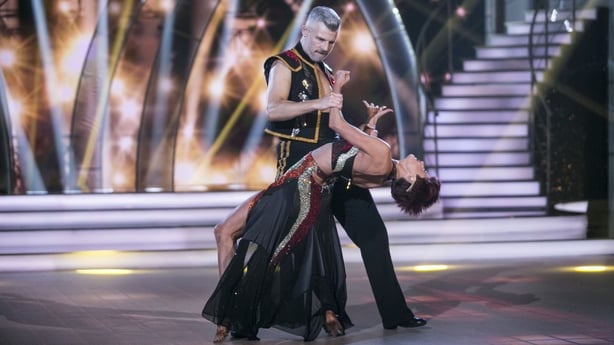 Des and Karen that its no cakewalk despite harsh comments
As game as ever, Des Cahill came out with cupcakes and then danced a cha-cha with Karen to Elton John and Kiki Dee's Don't Go Breaking My Heart. It was pretty sweet, and no one's heart got broken by the judges. But it was close.
Loraine said: "I wanted more because I know you can do it." Darren added, "Nice and sweet to look at, but could give you indigestion."
"You can dance," Brian told Des. "Believe in yourself."
With just 12 points from the judges, Des and Karen needed public support to survive. And they got it.
Start spreading the news. Denise and Ryan were smooth operators
It was far from a case of Anything Goes as Denise and Ryan slickly danced American smooth style to that Cole Porter classic, sharing a red heart balloon as a prop while they swept around a dancefloor set to a Manhattan skyline backdrop.
The audience loved it, although judge Darren felt the performance could've done with "a little bit more Hollywood glamour" but that the dance routine was "worth the risk".
Brian felt the balloon "slightly inhibited" the couple, while Loraine was full of praise: "I thought it was a great expression of American smooth."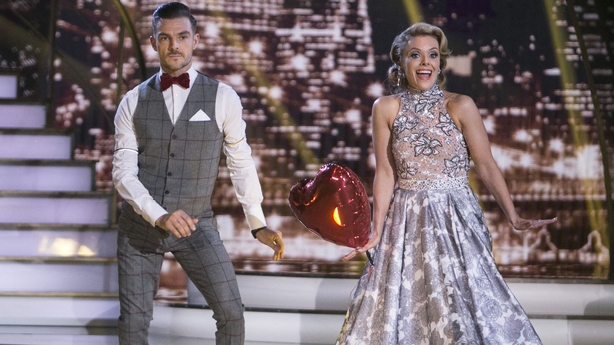 And so, it's all over for another week, with just seven competing stars left.