Madonna has confirmed she has adopted twin sisters from Malawi and said she is "overjoyed" to have them as part of her family.
The pop sensation shared a picture of herself with four-year-old Estere and Stelle on her Instagram page with the caption: "I can officially confirm I have completed the process of adopting twin sisters from Malawi and am overjoyed that they are now part of our family.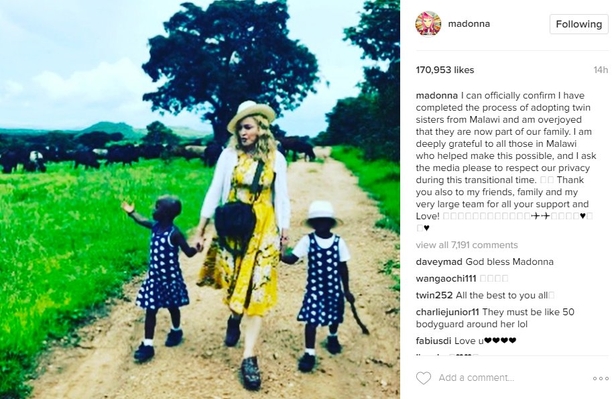 "I am deeply grateful to all those in Malawi who helped make this possible, and I ask the media please to respect our privacy during this transitional time.
"Thank you also to my friends, family and my very large team for all your support and Love!"
In January, Madonna released a statement contradicting Mlenga Mvula, a judiciary spokesman in Malawi, who was quoted as saying the singer had applied to a judge for permission to adopt two children.
The singer said "rumours of an adoption process are untrue", adding that she was in the country to pay a visit to the children's hospital while working with her charitable organisation Raising Malawi.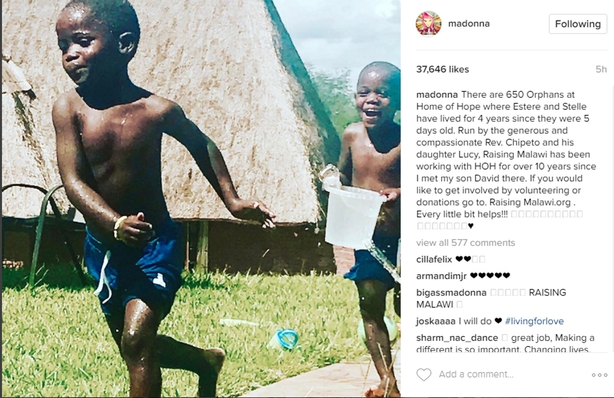 In a subsequent post, with another picture of the girls, Madonna wrote: "There are 650 Orphans at Home of Hope where Estere and Stelle have lived for 4 years since they were 5 days old.
"Run by the generous and compassionate Rev. Chipeto and his daughter Lucy, Raising Malawi has been working with HOH for over 10 years since I met my son David there."
This is Madonna's third adoption after adopting son David Banda and daughter Mercy James from Malawi in 2006 and 2009 respectively.
She also has a son, Rocco, from her marriage to Guy Ritchie, and a daughter, Lourdes, from a previous relationship.