Former British Prime Minister David Cameron has hinted at a political comeback saying "I'll be back" as he channelled Schwarzenegger's iconic Terminator character in a very random snapchat video with the Hollywood star.
The ten second clip, which was shot by Arnie and was posted on the actor's account, is captioned 'with my great friend David Cameron'.
Cameron, who announced his resignation as British PM last June after the UK voted in favour of Brexit, tells the ex-Californian governor's followers: "I'm here with the governor, he did a great job and I'll be back."
We need your consent to load this YouTube contentWe use YouTube to manage extra content that can set cookies on your device and collect data about your activity. Please review their details and accept them to load the content.Manage Preferences
Cameron was in California to deliver a speech at the University of Southern California, which was attended by Schwarzenegger.
In late 2010 Cameron welcomed the actor, who was governor of California between 2003 and 2011, to Downing Street for talks and joked, 'He'll help me terminate the deficit.'
Best wishes to my friend @David_Cameron. You are the definition of a great public servant. pic.twitter.com/hEzbpz1DaE

— Arnold (@Schwarzenegger) July 13, 2016
The video comes a day after the Austrian-born actor urged Donald Trump to go back to reality TV so "people can finally sleep comfortably again".
Schwarzenegger hit back after President Trump mocked his replacement as the host of The Celebrity Apprentice in the US.
The president suggested the show had been a "total disaster" since Schwarzenegger took over and even more bizarrely this week asked faith leaders at an annual prayer breakfast to pray for Arnie's television ratings.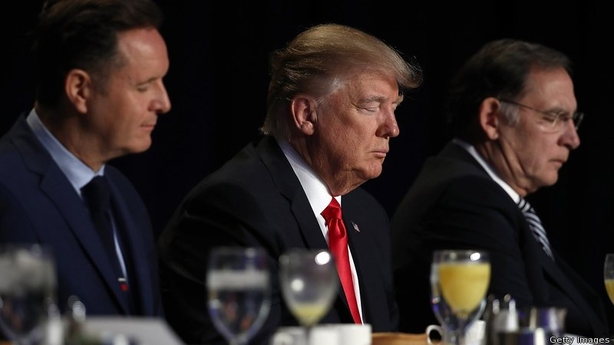 "They hired a big, big movie star, Arnold Schwarzenegger, to take my place, and we know how that turned out: The ratings went right down the tubes. It's been a total disaster."
"I want to just pray for Arnold, if we can for those ratings, okay?" Trump said.
The actor responded to the taunts in a brief video clip.
The National Prayer Breakfast? pic.twitter.com/KYUqEZbJIE

— Arnold (@Schwarzenegger) February 2, 2017
"Hey Donald, I have a great idea - why don't we switch jobs?", said Schwarzenegger.
"You take over TV, because you're such an expert in ratings, and I take over your job, and then people can finally sleep comfortably again, hmm?"