Saint Dermot of Bannon faced a very tough challenge on the opening episode of the new season of Room to Improve but after broken limbs, near broken hearts and determination on all sides, we all got major house envy again 
With property porn enjoying a another resurgence (look at the Irish Times supplement of a Thursday and just feel that heft, baby!) and with the cost of a tree house in Termonfeckin still five times the average wage in Ireland, it seems our umbilical attachment to land and property will never be severed.
And so the fifth season of RTÉ's hugely popular take on the property makeover show Room to Improve arrives in time for the financial and emotional wasteland that is late January. To tick all the wrong sexist boxes, this is a wonderfully manly and womanly programme that has always been compelling viewing, what with all those battles against dry rot and wood lice, set against real human dramas involving emotional and financial investments.
We need your consent to load this YouTube contentWe use YouTube to manage extra content that can set cookies on your device and collect data about your activity. Please review their details and accept them to load the content.Manage Preferences
Overseeing the whole vale of tears and dreams is Ireland's best-known architect Dermot Bannon. Dermot is a good bloke; he is unflappable and dapper and a bit like a kindly Anglepoise lamp, he cranes over adventurous architectural plans and listens intently to his clients' vision of their own personal Xanadus with rarely a furrowed brow or grimace.
This man is a saint of the segmental arch. St Dermot of Bannon is all about the Vision Thing - in a hard hat worn at a jaunty angle, he is the creator of bright, modern living spaces. However, nothing on Room to Improve ever slots together like a eh, segmental arch and Sunday night's opening episode was a zinger for conflict and bartering.
Our property is 100-year-old, crumbling cottage in the North Co Dublin Elysium of Malahide, which is as desirable a neighbourhood as you can get in the whole country (it could be the boats bobbing in the harbour; it could be the picture postcard streets).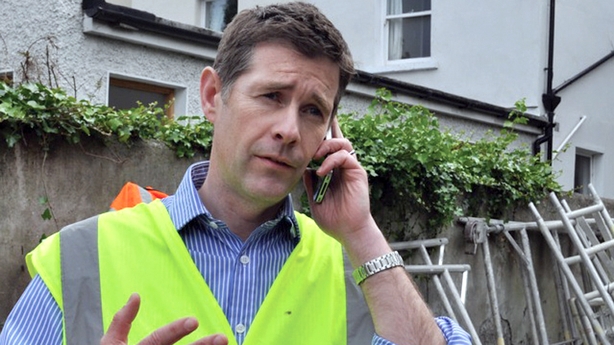 It is here where Darndale natives, alpha male Robbie and his wife Julie, have set their sights and site for their dream home. In fact they've had their eye on this shot-down shack of a dilapidated one-story hell hole for a very long time indeed and after horsing up their life savings of nearly a quarter of a million to buy it (location, location, location remember?), they're ready to transform it from something from the Blair Witch Project into their dream home - their very own design for life.
The place has curly, moss-matted carpets, rivers running down the inside walls (which are as wobbly as a Fair City set), it is also, we're reliably informed, smelly but IT'S IN MAL-A-HIDE!!! This future dream home is not so much a fixer-upper as a knock-the-whole-thing-down-and-start-all-over-againer.
Room to Improve is not just about salivating over clean modernist lines and strategically placed rubber plants and big white bowls of . . . stuff; there is the human drama. With huge amounts of money and their future homes at stake, minds tend to concentrate very hard and this is where the fun starts.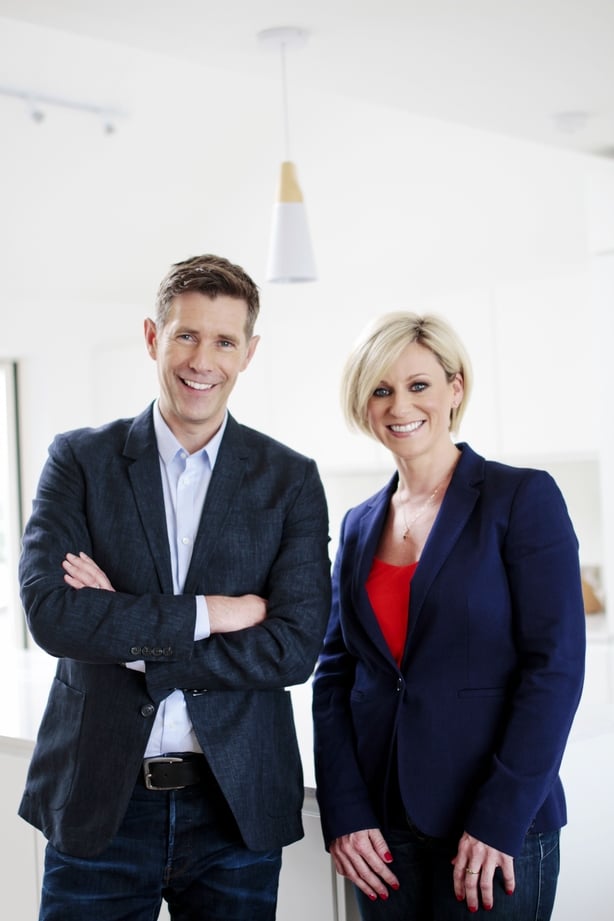 With help from Room To Improve's new quantity surveyor, Lisa O'Brien aka The Wasp, St. Dermot designs a two-storey extension that will incorporate the original cottage structure but his patience is tested when the very nice Robbie and Julie don't see it his way and insist on breaking their budget to shove a third bedroom on top of his Vision Thing. Cue sad cello and piano music and shots of St. Dermot walking the streets of Malahide alone at dusk.
To save money on builders, lucky Robbie gets to demolish most of the gaff (if you've ever taken a sledgehammer to a brick wall you'll know what I mean. Pure catharsis!) while singing Wrecking Ball by Miley Cyrus and quoting Conor McGregor. He also gouges up the back garden so it looks like Wood Quay in 1975. He doesn't break the bank but he does manage to break his fibula, holding back the build badly.
Cue more sad cello and piano music . . . but, of course, it all comes together beautifully and this is the pay off - a shell of a smelly old cottage transformed into a gleaming new gaff with big white bowls of . . . stuff. It is house envy overload and it is lovely to watch.
Broken budgets, broken hearts and, in Sunday night's episode, broken limbs. Hope floats and dreams are excavated from the rubble. With Room to Improve there is always love - and potential for a wet room in the coal shed - among the ruins.
Alan Corr @corralan