Ray D'Arcy isn't one to give interviews very often, so it was quite a surprise when he appeared on The Tommy Tiernan Show last night. Even Tiernan himself seemed quite taken aback when the broadcaster appeared from behind the curtain.
Opening up to the comedian D'Arcy heaped praise on his wife Jenny Kelly, with whom he has two children, seven-year-old Kate, and Tom, who is two, for shaping his career and for helping to make him the success he is today.  
For our first guest it's a role reversal, Tommy takes his revenge on Ray D'Arcy! #TommyTiernanShow pic.twitter.com/7D7O5jnMEW

— RTE One (@RTEOne) January 12, 2017
The broadcaster admitted that while he worked with his long-term love for over 15 years, now that they no longer share the same desk, their marriage has improved.
He said: "Jenny doesn't work with me anymore and it has improved our marriage. We worked with each other for 15 years and it was brilliant and I wouldn't be sitting here talking to you if it wasn't for Jenny.
"She really did shape me and she knows me best. She knows my strengths, she knows my weaknesses and as a result she will say to me, 'don't do that, do that.'
"I'll come home some days and I'll say, 'they told me not to do that' and she'll say, 'tell them to f-off, do it – that's what you do.'"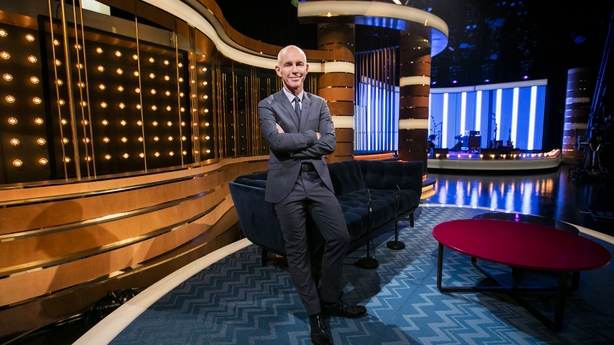 D'Arcy was also quite candid about his return to RTÉ admitting that moving from Today fm was a "huge thing" in his life.
"People kept saying, 'change is good,' but they are usually people who don't change, because change isn't always good.
"So there was the possibility that I would make the move and it would all go pear-shaped and I'd regret it.
"Luckily I don't regret it."
You can watch the full interview with Ray D'Arcy on The RTÉ Player right here.