Singer and Eurovision legend Niamh Kavanagh is one of the competing cooks on the new season of Celebrity MasterChef Ireland, which begins next Monday on TV3.
Here she shares some food-related thoughts and tips . . .
First Course: favourite childhood meal?
Roast chicken. Not even a hesitation. Roast chicken dinner on a Sunday was my favourite thing ever. I loved it. Generally then it led to Monday's dinner, when I'd come in after walking from Cappagh convent to Finglas. It was quite a walk home, so you'd be thinking about what you're going to be eating, and it would be whatever was left from the day before, and it would be made with fresh gravy. It was delicious.
Second Course: guilty pleasure?
(Laughs.) There's so many of them! I used to love, when I was growing up - and still kind of do now but I don't eat them very often – cream crackers with raspberry jam and butter. I'd make a little sandwich out of them.
I don't buy them very often because I could sit down and eat the pack – that's the problem. I'm not really into sweets or anything like that, it's always something savoury-based.
I'd take an odd takeout nowadays. I wouldn't say no to that. I'm very fond of making a big rasher sandwich. Sometimes, when you'd come home from a gig, that's the time that you can be caught. I used to love chicken kebabs!
Third Course: what's your best 'whip up' meal?
I make my own plum chilli sauce, so the kids and I would have that with broccoli and rice and chicken.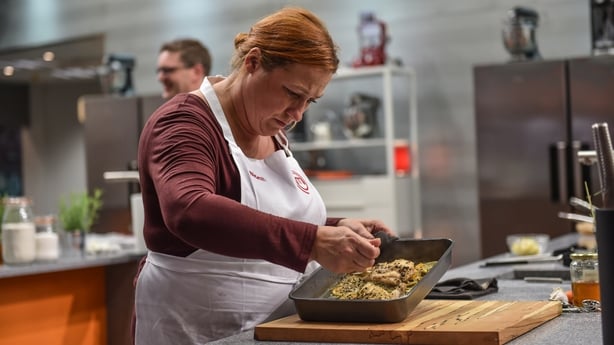 Fourth Course: do you prefer eating out or eating in?
I always like the idea of eating out, but I always prefer what I make when I come in - or if other people cook for me.
I think it's because, for a long time when I was younger, say for about ten or twelve years I was gigging all the time, and travelling, and doing TV abroad, so I didn't eat at home very often. And you really look forward to having proper food.
You generally got good food when you were out, you did look forward to sitting down and just having a proper dinner, like bacon and cabbage. Instead of fancy stuff all of the time.
To be honest, if I get a night off, people ask me if I'm going to go out, and I go: 'You must be joking! I'm lighting the fire and staying in.'
Fifth Course: tell us a cooking secret
I put mango chutney in my chilli and that works really well. You would tend to put it in a curry, but it works very well – you could also try fresh mango. But I use the chutney. It's nice.
The other nine Celebrity MasterChef Ireland contestants are former athlete Sonia O'Sullivan, singer and actress Samantha Mumba, actor Simon Delaney, weather forecaster Evelyn Cusack, director of Amnesty Ireland Colm O'Gorman, model Holly Carpenter, singer-songwriter Mundy, model Nadia Forde, and former GAA footballer Oisin McConville.
We need your consent to load this YouTube contentWe use YouTube to manage extra content that can set cookies on your device and collect data about your activity. Please review their details and accept them to load the content.Manage Preferences