The list of famous musicians and artists who've point blankly refused to perform at Donald Trump's inauguration as US President on Friday is now almost as long as your arm.
Despite the huge profile of the event, the rate of refusal is such that the incoming President had slim pickings come inauguration day on January 20 as his team battled in vain to assemble an even vaguely star-studded line up.
So far it's been reported that those who have sent a 'no thanks' RSVP include (deep breath) Andrea Bocelli, Adam Lambert, Charlotte Church, Elton John, Céline Dion, Kanye West, Garth Brooks, Idina Menzel, Justin Bieber, Rebecca Ferguson, KISS and Moby.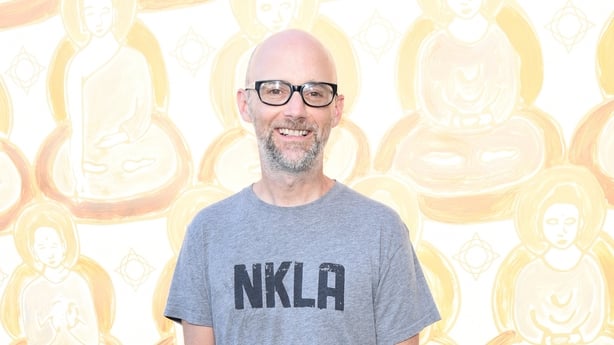 The latest artists to decline an invite were Broadway singer Jennifer Holliday, Charlotte Church and Moby.
Holliday wrote an open letter apologising to the LGBT community for originally agreeing to perform.
Regretfully, I did not take into consideration that my performing for the concert would actually instead be taken as a political act against my own personal beliefs and be mistaken for support of Donald Trump and Mike Pence.
Moby meanwhile announced his decision on Instagram, where he laughed off the offer.
"Hahahahaha, I was just asked by a booking agent if I would consider djing at one of the inaugural balls for #trump... Hahahahaha, wait, Hahahaha, really?" he wrote.
He then went on to say that he would accept the offer to DJ only if Trump released his tax returns.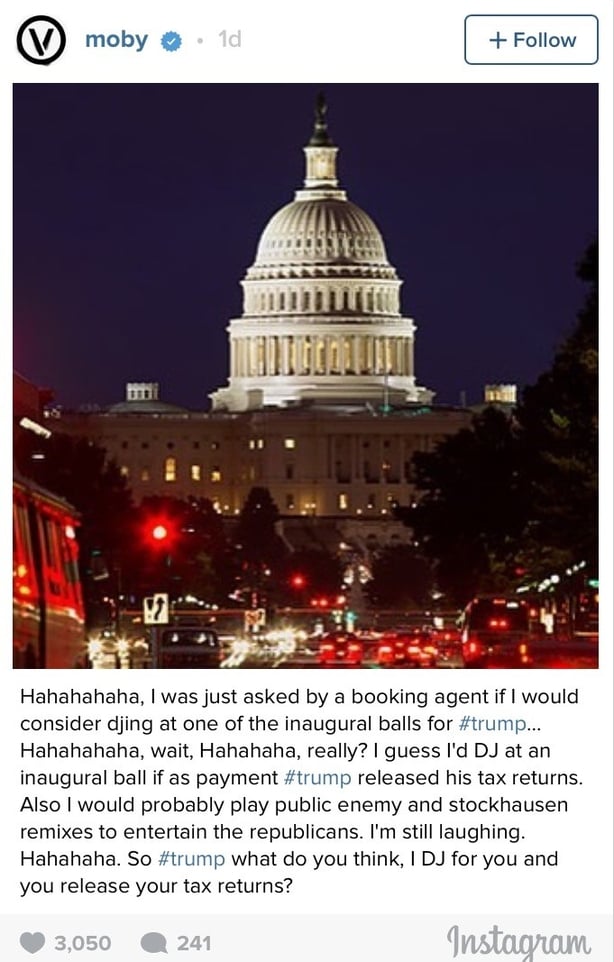 Welsh singer Charlotte Church was even more pointed in her response to the Trump team.
She lashed out on Twitter calling him a "tyrant" and signed off with a series of emojis that left little doubt about her opinion of him.
@realDonaldTrump Your staff have asked me to sing at your inauguration, a simple Internet search would show I think you're a tyrant. Bye💩💩💩💩

— Charlotte Church (@charlottechurch) January 10, 2017
Former X Factor contestant Rebecca Ferguson last week also declined to perform. She had previously said she would accept the invitation if she could perform protest song Strange Fruit, about the lynching of African-Americans in Southern states in the early 20th Century.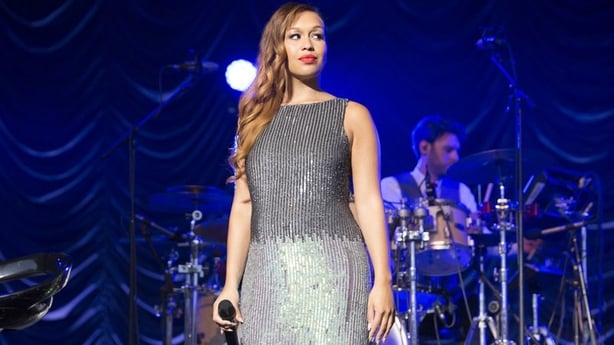 According to several reports, Trump's team is struggling to find anyone to perform as artists fear a backlash if they are seen to endorse his inauguration.
Recently the Daily Telegraph newspaper reported that one agent said that he couldn't book anyone "not even for a billion dollars" following Trump's divisive and often bitter campaign.