A track by Limerick duo The Rubberbandits has been selected for the soundtrack to the much-anticipated sequel to Danny Boyle's Trainspotting which hits cinemas later this month.
Their hard-hitting song, Dad's Best Friend, will feature alongside music from the likes of Underworld, Wolf Alice and Iggy Pop.
According to reports, Oscar-winning director Danny Boyle is a "big fan" of the Limerick comics and the video for the song might also appear in the movie.
Fans of The Rubberbandits have been delighted at their inclusion with many taking to social media to pass on their congratulations saying "Absolutely over the moon for ye!" and that it was "ace news".
In a statement to RTÉ Entertainment, Blindboy Boatclub and Mr Chrome, said it was more than mere luck that got them a place on the coveted soundtrack.
All of this became possible since we joined the Freemasons. It has allowed us to achieve many goals in the entertainment industry.

All it requires is the worship of a giant owl and the sacrifice of ferrets in a fairy fort in Parteen when the moon looks like Marty Morrissey's forehead.
The soundtrack to the original movie twenty years ago became one of the most iconic of the '90s with tracks such as Iggy Pop's Lust for Life and Born Slippy from Underworld.
The follow-up soundtrack features a similar mix of old and new amongst the listed fifteen tracks.
Among the songs included are Relax from Frankie Goes to Hollywood, three songs from hip-hop maestros Young Fathers including Get Up and Slow Slippy from Underworld, which is believed to be a new version of their massive 90s chart hit.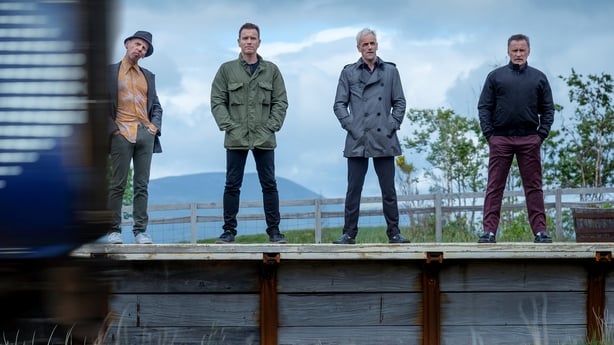 T2 reunites the original cast and hits Irish cinemas on January 27. The mayhem-filled story is loosely based on author Irvine Welsh's follow-up book Porno and sees Renton (Ewan McGregor) returning to Edinburgh to make amends with his old pals.
Speaking to RTÉ Entertainment last year, McGregor promised that the sequel would be "great".
"The script is really fantastic and we're all very happy with it," he said.