Dancing with the Stars kicked off the New Year in style on Sunday night and, as expected, viewers were treated to dazzling dresses, a glorious deep glow of fake tan and some questionable moves.
The eleven stars and their dancing partners kicked off proceedings with a dazzling performance of Putting On The Ritz.
We need your consent to load this YouTube contentWe use YouTube to manage extra content that can set cookies on your device and collect data about your activity. Please review their details and accept them to load the content.Manage Preferences
Viewers seemed to be mightily impressed by the opening number
That opening number was pretty amazing 👌#DWTSIrl #DWTSIreland

— actually carlos (@iamnotcarlos) January 8, 2017
I am really loving #DWTSIrl - great show. Dinner nearly destroyed as I am constantly being distracted during my cooking 💃

— Miriam O'Callaghan (@MiriamOCal) January 8, 2017
With no eliminations for the first two weeks, this first episode gave adequate floor space to the five male contestants and their individual partners as the girls were left to wait until next week to show off their moves.
Here are top five moments from the opening episode of the 12-week series.
1. He shoots, he scores! Aidan O'Mahony's sizzling salsa
Kerry footballer Aidan O'Mahony admits he has never danced in his life but he set the dancefloor alight with his fiery salsa and impressed the judging panel with his GAA-themed routine.
Taking some style tips from his good friend Paul Galvin, the five-time All-Ireland star showcased his honed body in a sheer top.
Best of luck tonight @GmailMahony . FYI - Shouldering is not dancing so just don't bury a shoulder in her and you'll be ok 😃😃 . #DWTSIrl

— paul galvin (@pgal10) January 8, 2017
Even Aidan's professional partner Valeria Milova found it hard to keep her clothes on. Her wardrobe malfunction seemed to add to the allure of their feisty performance. "I was on fire," she says, dismissing with charm that errant shoulder strap. 
The judges said Aidan could be "box office" with a little more work. Watch this space!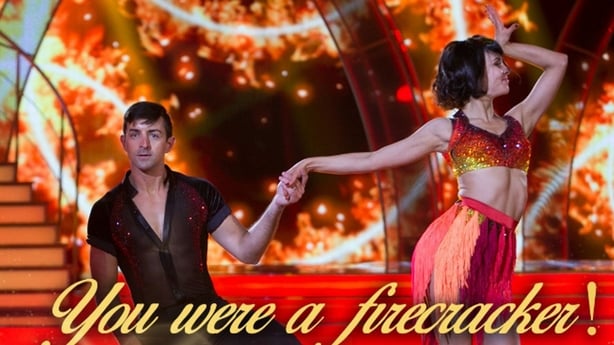 2. What a sport! Dancing Dessie wins the hearts of the nations
Sports commentator Des Cahill admits he'll be changing his tune about dancing at weddings after his performance - and by the looks of it he's going to be invited to a lot more.
Cahill stepped away from the side lines and tackled the foxtrot with partner Karen Byrne to Van Morrison's Moondance and was applauded on Twitter for his killer ending and suave moves.
OMG!! This is unreal...not hugely flattering..but fantastic ..! Thank you @nialloloughlin #DancingDessie  #DWTS https://t.co/mVfKhGx4cw

— Des Cahill (@sportsdes) January 8, 2017
What a finish from @sportsdes! #DancingDessie #DWTSIrl pic.twitter.com/tpi27BaKa8

— RTE One (@RTEOne) January 8, 2017
Best day for old people in Ireland since Charlie Haughey brought in the free travel
#DancingWiththeStars #DancingDessie @sportsdes

— Hurler on the ditch (@100eurochase) January 8, 2017
3. Hughie Maughan goes for bronze
Forget about going for gold... Big Brother runner-up Hughie Maughan went for bronze -literally. He caught the judges eye in a big way on last night's show, but it was his fake tan not his dance moves that lit up their faces and television screens across the nation.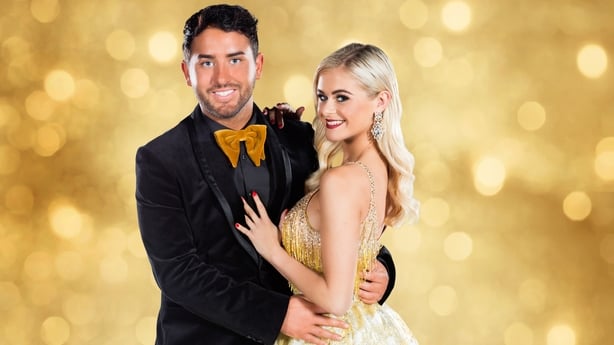 Hughie performed a Cha Cha with his professional partner Emily Barker to the Years and Years track King, and the 22-year-old joked with the judges when it came time to receive his critique that he has "stolen everybody's fake tan."           
Mr @hughie_maughan making sure the judges are paying attention to his routine! #DWTSIrl pic.twitter.com/tOfwa3A88D

— RTE One (@RTEOne) January 8, 2017
4. Des Bishop is hot, hot, hot!
Starting off the competition, a very determined Des Bishop opted for a tango and managed to rake in a whopping 18 points from the judges.
The comedian's moves and slick attire had judge Julian describing his performance as "hot, hot, hot", while Twitter was also receptive to the 41-year-old, with many singling him out as a highlight.
Taking to Twitter, Des poked fun at his facial expressions while dancing, sharing a still of his routine with the caption, "They really caught me at a moment on this one."
We need your consent to load this Instagram contentWe use Instagram to manage extra content that can set cookies on your device and collect data about your activity. Please review their details and accept them to load the content.Manage Preferences
The funnyman also posted a selfie with his fellow contestants backstage so it looks like spirits are high in the DWTS camp.
That lads @cronindayl @curtispritchard @lovedancingie @GmailMahony pic.twitter.com/ySq6aKtyxO

— Des Bishop 毕瀚生 (@Desbishop) January 8, 2017
5. Dayl Cronin brings it home
Hometown's Dayl Cronin danced The Charleston to Calvin Harris' My Way with his partner Ksenia Zsikhotska and impressed the judging panel by bringing the dance into the 21st century with some hip hop flair.
He told host Amanda Byram afterwards: "Every other rehearsal she'd fallen or we didn't get the lift... we're just delighted."
Our leaders after week one are @CroninDayl and @KzKsenia! Will the girls top them next week? https://t.co/IIlN8MlbK1#DWTSIrl pic.twitter.com/4kf6PEOfMk

— DWTS Ireland (@DWTSIRL) January 8, 2017
Topping our scoreboard for the night @CroninDayl and Ksenia! Ones to watch? #DWTSIrlhttps://t.co/xzqyFicuDO

— RTE One (@RTEOne) January 8, 2017