Actor Charlie Sheen has defended a Tweet in which expressed his hope that US president-elect Donald Trump will be the next celebrity to die.
The 51 year old former Two And A Half Men star posted a message on Twitter which read: "Dear God, Trump next please!" shortly after the death of actress Debbie Reynolds was announced.
He signed off the tweet with an emoji of a middle finger.
Dear God;

Trump next, please!
Trump next, please!
Trump next, please!
Trump next, please!
Trump next, please!
Trump next, please!

🖕🏾

©

— Charlie Sheen (@charliesheen) December 29, 2016
Although many followers and Twitter users seemed to share his views, with over 47,000 retweeting the message there was also a considerable negative reaction to the message with many saying he had overstepped the mark.
@jlooksky @charliesheen It's sad enough people wish death upon people.

— Justin Hasson (@justinthecookie) December 29, 2016
Following a number of news reports in the United States about his viral tweet, Sheen posted a second message on his Twitter account defending his comments.
"The media's reaction to last night's tweet is inanely emblematic of the panoramic timorousness draped vastly and wantonly across any and all expressions of hope or joy that we now dare to publish or impart.
Oh and by the way, I was talking to God, not you."
The comments represent somewhat of a change of tune for Sheen who said back in June that he would support Trump if he was elected.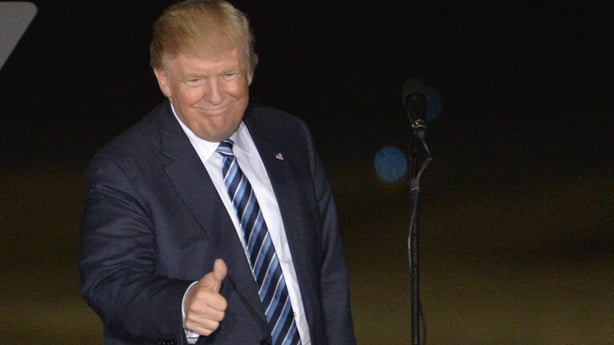 In an interview with Piers Morgan at an event in London, he said: "I think people just responded to something different, something fresh, something maverick, something innovative on some level.
"If he gets in I've got to support him and hope he does the best job he can, and if he doesn't, then man - that was a hell of a run."
Earlier this year he also shared a hilarious anecdote about the then Republican candidate when he appeared on The Graham Norton Show.
He said that Trump offered him a pair of platinum diamond cufflinks as a belated wedding gift on a night out, however the 'expensive' items turned out to be nothing more than cheap fakes.
Sheen told Norton that after the discovery "I just thought, 'what does this say about the man?'" and described Trump as a "charlatan".
We need your consent to load this YouTube contentWe use YouTube to manage extra content that can set cookies on your device and collect data about your activity. Please review their details and accept them to load the content.Manage Preferences