The funeral has taken place of the writer and cultural activist Anthony Cronin, who died earlier this week at the age of 88.
The mourners at the Church of the Sacred Heart in Donnybrook were led by President Michael D.Higgins while a large congregation from Irish literary circles including Cronin''s fellow Wexford writer Colm Toibín were also in attendance.
Born in Enniscorthy in 1928 and educated at Blackrock College, Dublin and UCD, Cronin was the author of 14 volumes of poetry and the picaresque novel, The Life of Riley. He also wrote Dead As Doornails, a celebrated memoir of mid-20th century literary Dublin life of which he had been part.
Cronin also wrote acclaimed biographies of Flann O'Brien and Samuel Beckett. He was editor of The Bell magazine and was once literary editor of the London journal, Time and Tide.
Cronin's Irish Times column, Viewpoint, ran between 1973 and 1980 and combined trenchant and perceptive commentary on the Irish and wider global political scene.
Anthony Cronin, RIP. https://t.co/rIlxO8fZUy

— RTÉ (@rte) December 28, 2016
The writer was appointed as a Saoi of Aosdána in 1993, joining an august list which included Samuel Beckett, Seamus Heaney, Mary Lavin, Tony O'Malley Sean Ó Faoláín and Brian Friel.
In a statement released on Wednesday afternoon, President Michael D. Higgins said: "I have learned with great sorrow of the passing of Anthony Cronin, poet, novelist, biographer of Samuel Beckett, essayist and critic.
A master of the long poem and faithful to the scholarly tradition understanding the poem, the poet and history, Anthony Cronin made an immense contribution to Irish life and sensibility.
In a statement Aosdána said: "Anthony Cronin was a poet. That is how he wanted to be remembered primarily. But as the moving spirit in the foundation of Aosdána, he was also one of the most significant figures in Ireland's cultural history.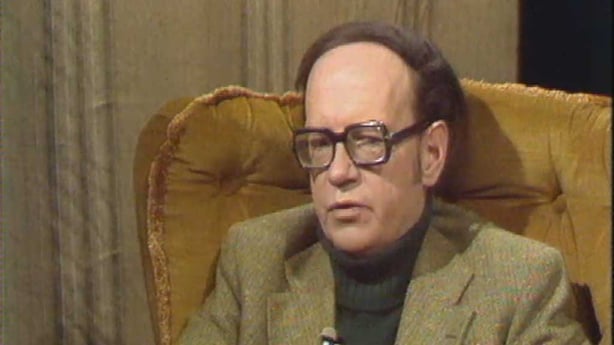 "He raised the public standing of the arts and, most especially, of the artist, to a level that no one of his generation would have thought possible..... As Anthony Cronin dies there are many artists today in Ireland who can live and work in their native land because of what he did for them."
Sheila Pratschke, Chair of the Arts Council said: "Tony Cronin was a rare example of the public intellectual in Irish life - committed, fearless, rigorous in his thought, and unashamedly forthright in his advocacy of what he thought right and good.
"Appalled by the penury faced by so many senior Irish artists in their later years, he persuaded then Taoiseach Charles Haughey, to whom he was cultural adviser, to establish Aosdána, an independent affiliation of artists which recognises significant achievement by artists in all disciplines.
Writer&critic Anthony Cronin has died aged 88. Listen back to his interview in July on @MiriamOCal here: https://t.co/WoGxIt3DU7 pic.twitter.com/JQyrrFqJUx

— RTÉ Radio 1 (@RTERadio1) December 28, 2016
In the late Seventies and Eighties, Anthony Cronin was cultural adviser to Charles Haughey and frequently defended him, declaring that he was the first head of government to prioritise the arts in state policy.
"Going into the Taoiseach's office as an adviser, I saw the opportunity of doing things and bringing things into being," Cronin told The Irish Times in an interview last May.
In that interview, he mentioned the creation of The Irish Museum of Modern Art, the Heritage Council, and Aosdána in particular as fruits of that initiative.
"Ireland fell out with its artists almost immediately on its foundation," he said. "Censorship was one of the things, but it wasn't the primary thing.
"The primary thing was the notion that all artists were anti-religious. There was a clash with the values and established beliefs of the country at large, which had just triumphed, remember."
Anthony Cronin is survived by his wife Anne and daughter Sarah.