Michael Fassbender has said he was "thrilled" to get Brendan and Brian Gleeson on board for his new movie Assassin's Creed, joking that he is "doing his best" to be accepted into their family.
Fassbender plays Brendan Gleeson's on-screen son in Assassin's Creed, with Brian playing a younger version of his real-life father in the film. Fassbender and Gleeson also play father and son in the upcoming release Trespass Against Us, which hits cinemas in March.
Having already worked with Domhnall Gleeson in 2014's Frank, we asked Fassbender when we spoke to him in London if he had been initiated into the Gleeson family yet, with the two-time Academy Award nominee saying that he is "doing my best to be accepted."
"I'm doing my best to be accepted," Fassbender laughed to RTÉ Entertainment. "I just love the Gleesons, they're fantastic, obviously a very talented family and I'm just thrilled to have any of them on board. But it was a real treat to work with Brendan again."
Watch Sinead Brennan's full interview with Michael Fassbender here:
We need your consent to load this rte-player contentWe use rte-player to manage extra content that can set cookies on your device and collect data about your activity. Please review their details and accept them to load the content.Manage Preferences
Fassbender admitted that working with Gleeson was a major perk of the job, having been a fan of his since he was a teenager and hailing the actor as a "massive influence" on his career.
"Brendan and I got on great on Trespass [Against Us] and I've been a fan of his since I saw him in Juno and the Paycock when I was 16, so it's one of those nice moments in this job for sure when you get to do that," he said.
The Kerry man recalled watching 1991's The Treaty with his grandfather, with the pair particularly enjoying Gleeson's turn as Michael Collins.
"He was a massive influence. I remember taping The Treaty for my grandfather at the time and we both agreed he was the best representation of Michael Collins," Fassbender added.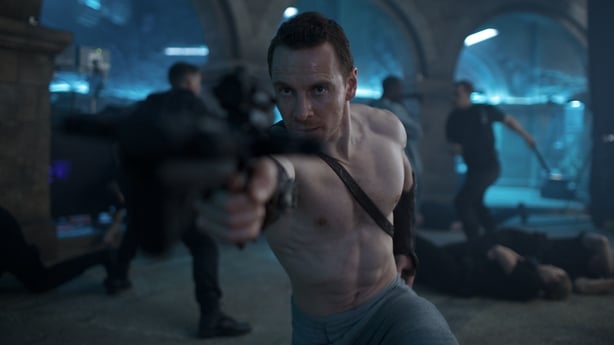 Assassin's Creed is based on the video game of the same name, and Fassbender said he is both nervous and excited to share it with the fans of the franchise.
"It means a lot to us that the fans embrace it, they're a very passionate community and for a lot of them, there are certain things that belong to them, I guess, from the experience of playing the game," Fassbender said. 
"But you know, we put everything into it and we were very passionate from the beginning... So I think there's something there that the fans will really enjoy. We've kept the elements of the game that I think are truly important and translated them to the big screen."
Assassin's Creed hits cinemas on January 1, 2017.
Check out our interview with Fassbender's co-star Marion Cotillard and director Justin Kurzel here:
We need your consent to load this rte-player contentWe use rte-player to manage extra content that can set cookies on your device and collect data about your activity. Please review their details and accept them to load the content.Manage Preferences