Colin Farrell has called on politicians to "step up" to solve Ireland's homelessness crisis, saying that the country should be "leading the world in compassion".
The actor was a guest on the Ryan Tubridy Show on RTÉ Radio 1 on Tuesday where he discussed his longtime involvement in the Irish Homeless Street Leagues, which seek to help people transform their lives through participation in weekly football.
We need your consent to load this YouTube contentWe use YouTube to manage extra content that can set cookies on your device and collect data about your activity. Please review their details and accept them to load the content.Manage Preferences
"I'd be watching the news and I know I'm over in America and life's grand for me and all that kind of jazz, but it doesn't mean that I don't give a s****," he explained. "I'd be watching the news, watching what's going on."
Farrell said that becoming homeless is something that could happen to anyone and described himself as someone who had been given "so many free passes" in his own life.
"Mr Actor and all that jazz, there go I but for the grace of God," he said. "I mean, if I didn't have something [acting] that is so forgiving of sometimes what's termed the 'bad behaviour'...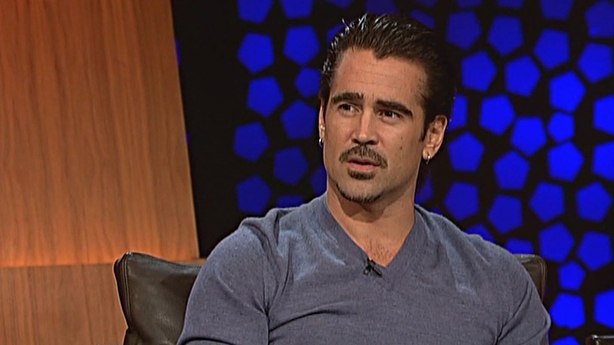 "I was uptown; I was doing fun stuff and all. I wasn't lying in a street corner, eight degrees at two o'clock in the morning sticking a needle in between me toes. It wasn't that level of hardship; we're talking a lot of hardship. I'm not saying that all homeless people are drug addicts at all, but there's a lot of that, of course, because it's an escape."
Farrell said the homeless had become like "refugees in our own country" and that the time for ending the crisis, and the problems feeding into it, was long overdue.
"It's absolute insanity," he continued. "And how many thousands of houses are empty around the country that have been reclaimed by the banks? I'm no politician and I certainly haven't got any clear fiscal answers to the issues because I'm not a politician and I'm certainly not an economist. I get it: I'm an actor and I'm a mouthpiece, blah, blah, blah.
"But it's outrageous; there's no one that wouldn't say it's outrageous. It also is just unnecessary; it doesn't need to be happening. But something has to happen. And I know the people of Ireland are rallying up against it themselves because we are a very caring nation... It's time the politicians really, really stepped up to the plate."
When asked at the end of the interview about his recent Golden Globe nomination and success, Farrell replied that "all that stuff is just an illusion". "To be honest with you it's great; I'm very grateful for it," he added. "But in the grand scheme of things the important stuff for me is my kids, my family - my brother, my sisters, me mam, me dad - how everyone's doing, me friends, and what we're talking about now."