Coldplay have been named the most streamed band in the world by Spotify.
The music streaming giant have said that the London band have now amassed more than five billion streams on its platform.
The band's most recent album, 'A Head Full Of Dreams', accounts for over a billion of those streams.
According to MusicWeek.com, Coldplay's most streamed songs are 'Adventure Of A Lifetime' with over 322 million streams, and 'Hymn For The Weekend' with 289 million streams on Spotify.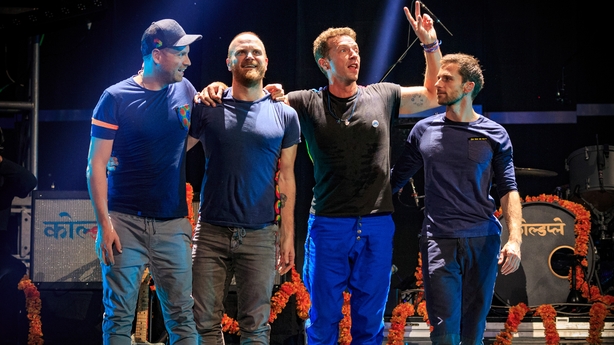 Marking their achievement yesterday, the band released a special EP, entitled Live From Spotify London'.
It features stripped-back versions of 'Everglow', 'Yellow', 'Christmas Lights', 'Adventure Of A Lifetime' and 'Viva La Vida'.
The band were recently crowned 'British Artist Of The Year' at the BBC Music Awards.
Having beaten the late David Bowie to the crown, fans and viewers didn't react well to Coldplay's win.
Coldplay over Bowie. Let that sink in. I give up. #BBCMusicAwards

— Adam Pritchard (@AdamPritchard1) December 12, 2016
#BBCMusicAwards How Coldplay could win that award over David Bowie is absolutely beyond me.......who made that decision? They need sacking!

— StephenMark (@stemcqueenie) December 12, 2016
Bowie should win this one
In the face of death he wrote a masterpiece #BBCMusicAwards

— Josh (@fuzzybananass) December 12, 2016
Following the music icon's death, Coldplay revealed he once turned down the opportunity to collaborate with them.
Speaking to NME, drummer Will Champion revealed that lead singer Chris Martin had sent a letter asking Bowie to be involved and Bowie replied, "It's not a very good song, is it?"
Champion said that Coldplay's reaction was to not be overly phased at Bowie's reply, saying "He was very discerning – he wouldn't just put his name to anything. I'll give him credit for that!"
We need your consent to load this Spotify contentWe use Spotify to manage extra content that can set cookies on your device and collect data about your activity. Please review their details and accept them to load the content.Manage Preferences