Irish boyband HomeTown have announced they are "taking a break" to pursue individual projects.
The six-piece band, consisting of Cian Morrin, Dayl Cronin, Dean Gibbons, Josh Gray, Ryan McLoughlin and Brendan Murray, announced the news on their official Twitter account.
"First of all we want to thank everyone from the bottom of our hearts for all the support over the last 3 years. We have done some amazing things, from number one singles to sold out shows, trips around the world and so much more, and it's all down to the support you have all shown us," the post began.
"We regret to say that at this point in our career we have decided to take a break and pursue our own thing individually. We hope you all understand that it is not a decision we have taken lightly but due to many things out of our control it is the best thing for us at this moment in time.
"We can't express enough how much we appreciate everything you've done for us, our lives have changed so much and we can't wait to take you on our individual journeys.
"As a band we remain the best of friends and look forward to supporting each other in whatever we go on to do. Thank you all for taking the time to read this, and again, we hope you understand. Lots of love ❤️Brendan, Cian, Dayl, Dean, Josh and Ryan."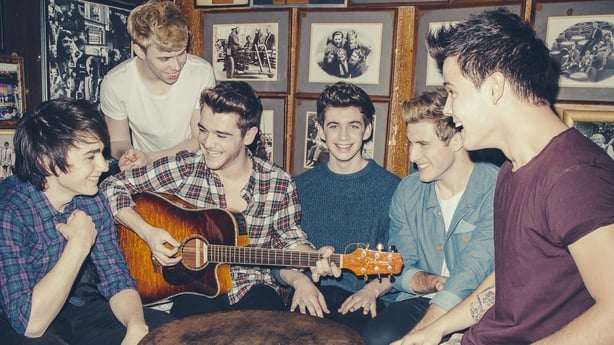 Louis Walsh, who founded and manages the band, previously tipped the group to become "the next Westlife".
"I have that same excited feeling that I had when Westlife started," he told. "These boys have the talent and the drive and the rest will come. I believe in them as a group and I am confident that there is a gap in the market for them.
"They are six young, talented Irish boys and I think they will have the same sort of career as Westlife and can be the next Take That.
"They have signed with Colin Barlow with RCA and he is the best in the business and already they are making waves in Ireland.
"They can all sing and I really believe they have what it takes to be the next big thing," Walsh added.
Walsh auditioned almost 2,000 young hopefuls before forming HomeTown back in 2013.
HomeTown's debut single Where I Belong became the fastest-selling single from a debut artist and the quickest -selling single from an Irish artist in 2014. Their follow-up Cry For Help also topped the chart in Ireland.
We need your consent to load this YouTube contentWe use YouTube to manage extra content that can set cookies on your device and collect data about your activity. Please review their details and accept them to load the content.Manage Preferences