Aaron Eckhart has recalled his "embarrassing" first encounter with acclaimed director Clint Eastwood and revealed he honestly thought he would never have the opportunity to work with him.
The 48-year-old actor, who plays First Officer Jeff Skiles alongside Tom Hanks in Eastwood's new biopic Sully, explains how he plucked up the courage to approach the 86-year-old filmmaker at the Golden Globes a few years ago.
Speaking to RTÉ Entertainment, Eckhart revealed that the meeting didn't go so well but admits it all worked out for him in the end.
"I took the opportunity at the Golden Globes when he was surrounded by all the big boys.
"After the event was over and we all stood up to leave I made my way over to Clint and sheepishly went up to him and said 'Hello my name is Aaron Eckhart and I'm an actor and I would love to work with you someday'.
"He sort of looked at me like Dirty Harry and he goes 'We'll see what's shakin'.
"I thought I'm never going to work with him. I just embarrassed myself on front of all of these other people.
"But lo and behold, he called up," Eckhart added.
We need your consent to load this Facebook contentWe use Facebook to manage extra content that can set cookies on your device and collect data about your activity. Please review their details and accept them to load the content.Manage Preferences
Tom Hanks takes on the role of Capt. Chesley 'Sully' Sullenberger, the pilot who saved 155 lives by landing a plane on the Hudson River in 2009 after dual engine failure in Eastwood's new movie, and Eckhart admits he was in awe watching Hanks on set.
"I'm a fan of Tom just like everyone else. I took the opportunity of working with him to grill him and ask him all of the questions I have about the business and about his experiences and what he considers to be important with choices he makes.
"He got sick of that after awhile and I did the same thing to Clint," he said.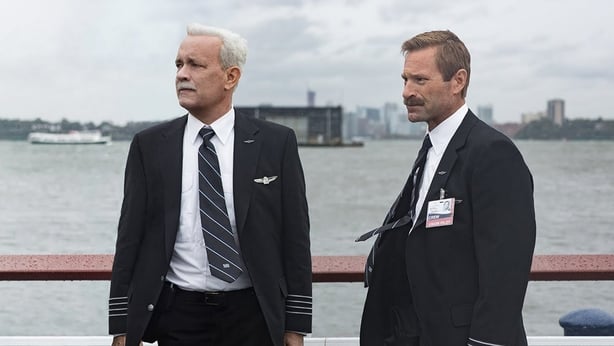 Eckhart, who can next be seen in another true story in boxing drama Bleed For This, says he was interested to find out why Hanks has earned the title of 'The Nicest Guy in Hollywood'.
"It's interesting to talk to him. It's also interesting watching him in the silent set moments. How does he conduct himself? How does he relate to others? Why is he 'The Nicest Guy in Hollywood?' How does he prepare before a scene? 
"I'm always watching the people that I work with and Tom is one of our best. He has given us great iconic performances.
"He is totally passionate about his job but he has a kind word and an open heart for everybody around him," he added.
Sully is in cinemas nationwide from Friday, December 2.
You can read our five-star review of the movie here