Last year's Late Late Toy Show was the second most trending topic on Twitter WORLDWIDE and it's really not hard to see why.
From Tubs' very express manicure to the dude with the fly-est farming rap we've ever heard and, of course pie flying around the studio - last year's show really was much more a Beauty than a Beast! Here's a reminder of the best bits
1. Evelyn Cusack
We thought Late Late Toy Show surprises didn't get any better than Ed Sheeran two years ago - but Johnny O'Loughlin's reaction when RTÉ weather presenter Evelyn Cusack came on stage was one to remember; "Did you get here in a taxi?"
The brilliant moment super-fan Johnny O'Louglin met Evelyn Cusack: "Did you get here in a taxi?" #LateLateToyShow https://t.co/f1B2qeW9tu

— RTÉ TEN (@RTE_TEN) November 27, 2015
2. Fionn - Eminem's small farmer rival
Fionn Molloy and his inimitable brand of tractor rap came straight out of left-field, "I came to a stop, took a little look, the tractor stopped. The tractor stopped!" Gangsta to the core, this young man endeared himself to the nation with his very sick rhymes
Watch your back @Eminem Fionn's coming for you. #FionnForXmasNumber1 #LateLateToyShow #toyshow https://t.co/GZyYgqIYOV

— RTÉ TEN (@RTE_TEN) November 27, 2015
3. The new Ant & Dec
Ryan made a wonderful new friend with video game enthusiast Cathal Lynch. It was love at first sight for the pair and we've a feeling Tubs won't be going long before he plays FIFA or Guitar Hero with his new amigo and BFF 4Eva! And how cool was the three screen set-up?
Comedy gold: Ryan and Cathal Lynch the new Ant & Dec #LateLateToyShow #ToyShow pic.twitter.com/G0SGeRV0uu

— RTÉ TEN (@RTE_TEN) November 27, 2015
4. Let it go. No seriously, let it go
Tubridy met his match in Lara Reddy, who proved more than a little reticent in handing over her Frozen microphone toy. We love her moxie! Although we probably never want to hear that song ever again. "Let it go, let it go-ooo etc etc."
Tubridy: "Let it goooo, let it goooo. No seriously, let it go." #LateLateToyShow #toyshow https://t.co/tZrkdBMnko

— RTÉ TEN (@RTE_TEN) November 27, 2015
5. Surprise, Surprise!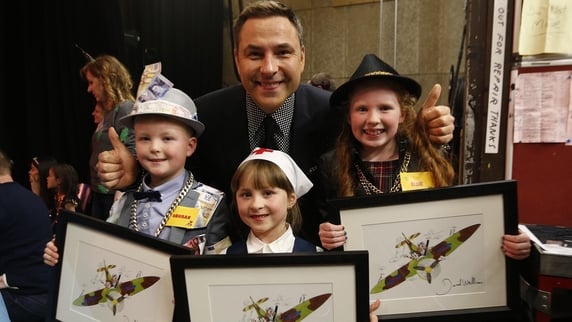 Funnyman and author David Walliams was a good old sport and made a surprise entrance through a magical door to chat to some starry-eyed bookworms. The gorgeous little ones are huge fans of his kids' book series and put some of their brilliant questions to the man himself. A truly magical moment!
Hello @davidwalliams – and another magical moment is born #LateLateToyShow #ToyShow pic.twitter.com/V3G1TciCcJ

— RTÉ TEN (@RTE_TEN) November 27, 2015
6. He nailed it!
Tubs got his grooming on point for Christmas and opted for a slap of pink nail polish on his hands by the very creative and stylish Abbie Fitzpatrick. Let's hope he had some remover (or paint striper) at home.
Good luck to Tubs getting this off tomorrow. Well done to the very stylish Abbie #toyshow #LateLateToyShow pic.twitter.com/efZNxXi0dX

— RTÉ TEN (@RTE_TEN) November 27, 2015
7. Little Mix. The Trad version.
Who would have thought Little Mix's Wings would work with Trad music. We'd like to see the ladies have a go at Irish dancing. Do you reckon Jesy, Leigh-Anne, Perrie and Jade would be any good at a jig?
Wonderful trad mix of @LittleMix's Wings from these little cuties #LateLateShow #toyshow pic.twitter.com/XwraAj5qkr

— RTÉ TEN (@RTE_TEN) November 27, 2015
8. U2 in the house! Well actually it was Red Head…
And what a mighty fine rendition of Every Breaking Wave they sang. Bono and the lads can rest assured they're some pretty good musicians following in their footsteps.
A young Bono in the making. Get Red Head to the @3arenadublin #TheLateLateToyShow pic.twitter.com/9FU7xda6ug

— RTÉ TEN (@RTE_TEN) November 27, 2015
9. Noah and Leah sing Titanium
After posting a video earlier last year of them singing together on Facebook, Tubs invited Leah Kirwan and her brother Noah onto the Toy Show to sing his favourite song Titanium. Their performance was just beautiful.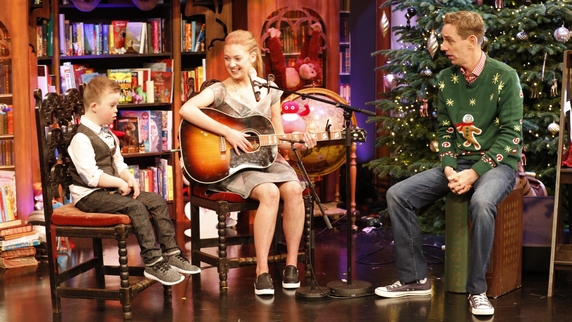 10. The Last Hurrah
The excitement of the closing number Tale As Old As Time got to the better of some of the little kiddies and ended up turning into one big game of pile-on as all 285 kids descended onto the stage for the epic of all Toy Show finales. Cue the mayhem!
And that's a wrap. Yet another magical #LateLateToyShow spectacle! #toyshow https://t.co/0Yy7Dz2V0k

— RTÉ TEN (@RTE_TEN) November 28, 2015