Forget Black Friday, the main reason many people were up early and running to their laptop and tablet screens this morning was to bingewatch the long-awaited return of Gilmore Girls on Netflix.
The reboot of the popular series is back with four 90 minute episodes focusing on a season of the year.
The US comedy-drama originally aired from 2000 to 2007, and followed the lives of single mother Lorelai Gilmore and her daughter Rory, living in the fictional town of Stars Hollow, Connecticut.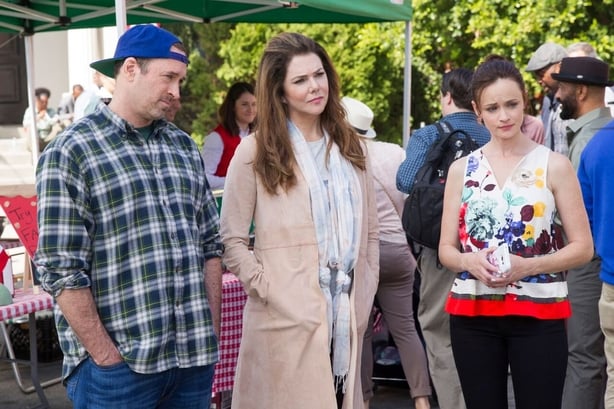 Gilmore girls: A Year in the Life picks up things nine years down the line with both Alexis Bledel and Lauren Graham returning to the show in the main roles along with a whole host of original cast members including Melissa McCarthy.
We need your consent to load this YouTube contentWe use YouTube to manage extra content that can set cookies on your device and collect data about your activity. Please review their details and accept them to load the content.Manage Preferences
So what changes have been taking place? Lorelai's relationship with Luke is at an unnerving standstill (there are hints of a wedding in the trailer), Rory's budding journalism career in New York has stalled before it's even begun and Emily's world is turned upside down following the untimely passing of her husband, Richard.
The good news for the (mostly female) fans is that the first reviews have been very positive. In the US, Atlantic Magazine said the revival "renews the witty spirit that has helped it endure since it went off the air" .
Radio Times said the show still retains the same warm fuzzy feeling as the original as "the central feel of Gilmore Girls has been preserved with love" while Digital Spy said "The script is as fresh and slick as ever, and it is somehow both nostalgic yet fits right into the TV landscape of 2016."
It does seem as if the fans' excitement has been justified.
Taking an extra day off work to binge new Gilmore Girls is totally justifiable right?

— Lana ap Rees (@LananaSplit) November 25, 2016
I'm trying really hard to not spoil Gilmore Girls for myself until I watch it completely. I'm struggling. 😭😭😭😭

— Vale (@_valeriavale_) November 25, 2016
it's been 9 years, 6 months and 10 days since the last new episode of gilmore girls. that's 3482 days.

can you believe we made it to today?

— jennifer 🎏 (@aaalwayss) November 25, 2016
Reminder that if you tweet Gilmore Girls spoilers I will report you. Not to Twitter. To the police. I will call MI5. I will kick your dog.

— Aaron Butterfield (@AzButterfield) November 25, 2016