Tom Hanks, Bruce Springsteen, Robert De Niro and chat show host Ellen DeGeneres are among several famous names to receive the Presidential Medal of Freedom, the United States' highest civilian honour, on Tuesday.
They were all included in Barack Obama's final list of nominees before he leaves office and were honoured for their outstanding contributions to American culture at a ceremony at The White House in Washington.
Other recipients include singer Diana Ross. Robert Redford, former basketball champions Michael Jordan and Kareem Abdul-Jabbar and Bill and Melinda Gates.
"These are folks who have helped make me who I am,'' Obama said.
"Everybody on this stage has touched me in a very powerful, personal way, in ways that they probably couldn't imagine".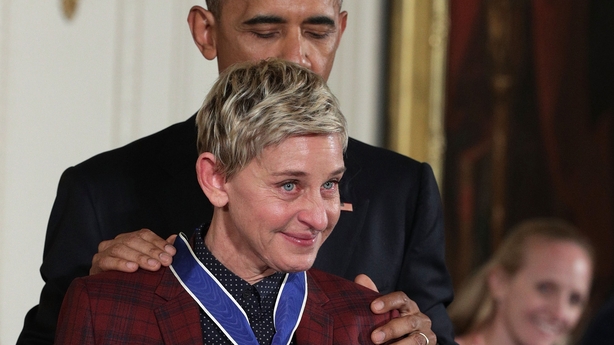 Presenting the medal to chatshow host and comedian Ellen DeGeneres President Obama praised her influence on the gay rights movement and her bravery by publicly coming out in the late 90s.
"What an incredible burden that was to bear - to risk your career like that - people don't do that very often. And then, to have the hopes of millions on your shoulders", said Obama.
President Obama pays a warm & emotional tribute to #EllenDeGeneres as she is given a #MedalofFreedom pic.twitter.com/3DNvSDlIvI

— Entertainment on RTÉ (@RTE_Ents) November 23, 2016
All twenty-one recipients were presented their medal at a ceremony in the White House on Tuesday, with Obama commenting "it's a particularly impressive class". 
Obama spoke warmly about Hollywood star Tom Hanks, saying he "always saved his best roles for real life. He is a good man."
. @BarackObama on @tomhanks : "Tom has always saved his best roles for real life. He is a good man. Which is the best title you can have" pic.twitter.com/jBnoSwr5a1

— Entertainment on RTÉ (@RTE_Ents) November 22, 2016
Obama joked about Bruce Springsteen: "I am the President, he is The Boss", and proceeded to enthuse about the singer's legendary live shows which run for at least four hours.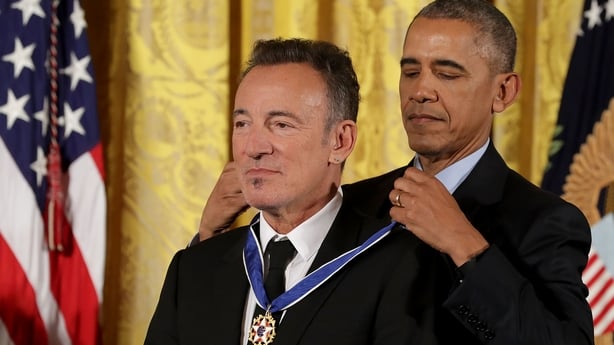 Many of the entertainers who were honoured were very vocal in their support of Hillary Clinton in the election, including Springsteen. The Boss performed at one of Clinton's final rallies in Philadelphia where he castigated Trump.
. @BarackObama jokes about @springsteen: "I am the President, he is The Boss". pic.twitter.com/OzyJofZ22Y

— Entertainment on RTÉ (@RTE_Ents) November 22, 2016
He told the crowd that Trump was "a man whose vision is limited to little beyond himself, who has the profound lack of decency that would allow him to prioritise his own interests and ego before American democracy itself."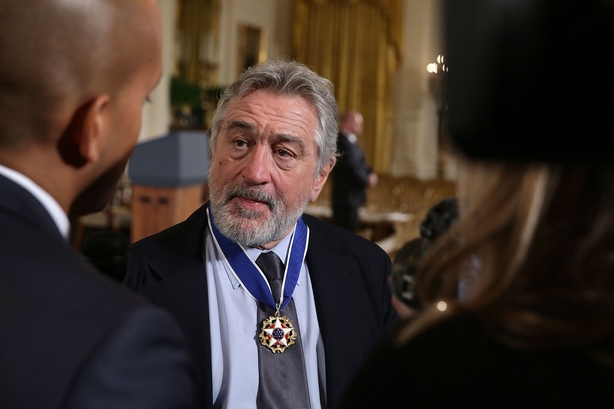 De Niro meanwhile had released a video in October in which he said he would like to punch the Republican presidential candidate.
He lambasted Trump calling him "an idiot, a national disaster, an embarrassment to this country … this fool, this bozo".
We need your consent to load this YouTube contentWe use YouTube to manage extra content that can set cookies on your device and collect data about your activity. Please review their details and accept them to load the content.Manage Preferences
Back in August, De Niro had also compared the US President-elect to Travis Bickle, the disturbed character he played in Taxi Driver and said "What he has been saying is really totally crazy, ridiculous stuff that shouldn't be even... he is totally nuts".
President Obama will leave office in January after eight years, following the election of Republican Donald Trump.