Gay Byrne has revealed on his RTÉ Lyric FM show that he will not be on air next week as he has to go to hospital for tests to determine if prostate cancer may have spread to his lower back.
As he wrapped up his show on Sunday, the veteran broadcaster said he would not be doing the show next week because he had to go into hospital.
The 82-year-old told listeners: "I shall not be with our listeners on this day next week. Have to go to hospital this week...They think they may have discovered a bit of cancer in the prostate and they think it may have moved up into my back.
I've had the most wonderful, fantastic, robust, good health all my broadcasting life. It's my turn now ... Many, many people much worse off. Thank you for your good wishes."
It's not the first health scare for Gay Byrne. He suffered a heart attack in December 2015 but returned to work just weeks later.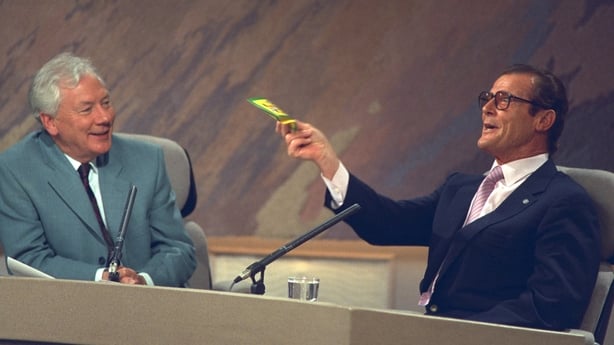 Among those wishing him well was one of his successor's on the Late Late Show, Ryan Tubridy.
He told listeners to his radio show on Monday that Gaybo "was very understated in how he spoke about it and I certainly wanted to wish him and the family well in the next couple of weeks, that he gets looked after."
He is a trooper, he is a fighter, he is a survivor and he's had a pretty tough year lets face it after last December and yet, on he goes.
On the same show, author Lee Child and creator of the Jack Reacher series of novels, also paid tribute to the broadcaster
"Let me pass on my best wishes to Gay as well. I met him years ago, I was on his show and I hope he's going to be ok", he said.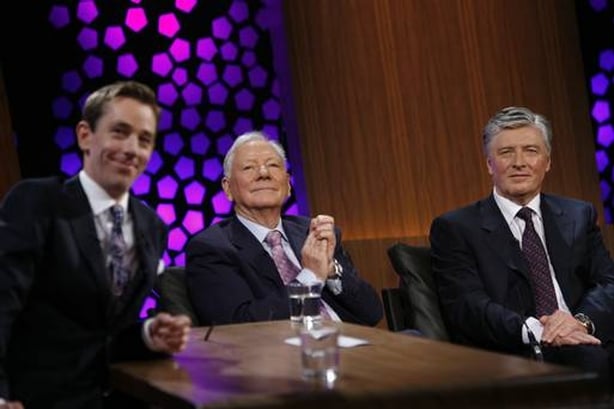 Gay Byrne has been a towering presence in Irish broadcasting for almost six decades.
Following his retirement in 1999, the former Late Late Show host has continued to broadcast on radio with a weekly Lyric FM show and on television with his Meaning of Life series, which sees him interview people in the public eye about their beliefs.
Previous guests on the long-running series include Stephen Fry, Majella O'Donnell, Enda Kenny, Rory O'Neill and David Puttnam.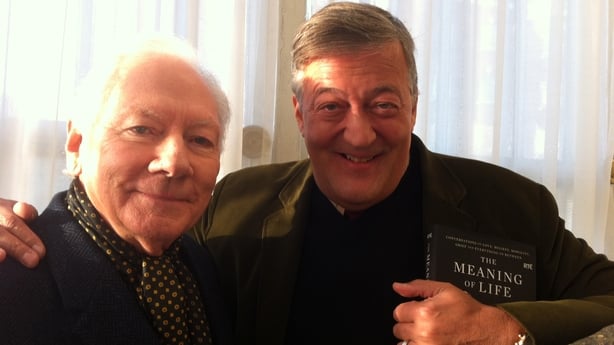 In a statement RTÉ said "All Gay's friends and colleagues in RTÉ wish him a speedy recovery and look forward to welcoming him back in the coming weeks".
Scores of listeners, fans and fellow broadcasters have also been sending their best wishes to Gay since Sunday's announcement.
An Irish Icon #Gaybyrne shares his cancer concerns. Sincere prayers and best wishes. pic.twitter.com/bJOre6HIlN

— fr paddy (@frpaddybyrne) November 20, 2016
Id like to wish Gay Byrne a speedy recovery.. @RTEOne @RTE2fm @RTE_Ents

— nathan carter (@iamNATHANCARTER) November 20, 2016
All my love and positive thoughts to #GayByrne and Kathleen

— Nikki Hayes (@nikkihayes) November 20, 2016
Best wishes to Gay Byrne for a speedy recovery. He played a huge role in dragging Ireland, kicking and screaming, into the 20th century.

— don lavery (@donlav) November 20, 2016
Terribly sad to read this about the Don of Irish radio. 😒 Gay Byrne reveals cancer diagnosis via @RTENewsNow https://t.co/DXBTD97a1J

— Liam Tuohy (@djleejt) November 20, 2016
Our thoughts with Gay Byrne as well as family and friends. Get well soon Gaybo

— 8Radio (@8RadioIreland) November 20, 2016
Sad to hear about Gay Byrne's on-air announcement of heath issues. I listen every week but missed that part. I wish him every good thing.

— Ken Armstrong (@kenarmstrong1) November 20, 2016
@rtenews sending all my love & support to Gay Byrne after hearing about his cancer. BK x

— Dr BRIAN KENNEDY (@KennedySinger) November 20, 2016
All of us here at 2FM wish Gay a quick & speedy recovery & look forward to hearing you back on @RTElyricfm soon ❤️ pic.twitter.com/at1NS2mhVA

— RTÉ 2FM (@RTE2fm) November 20, 2016
@DustinOfficial whats happened him?

— James Lavin (@lavinjames) November 20, 2016