Comedian Al Porter has revealed his struggles with depression and has said the stigma about the condition even forced him to hide his medication after he was prescribed anti-depressants by a doctor.
Speaking on Wednesday night's edition of Brendan O'Connor's Cutting Edge on RTÉ One, the 23-year-old Tallaght man spoke candidly about the difficulties in coming to terms with a diagnosis of depression.
He said that until recently he hadn't understood the stigma that surrounded mental health issues.
"I've heard friends of mine like Bressie talk about it kind of thinking I can't really get where you are coming from and then I realised someone as confident as me, I'd tell people anything about myself - every detail. I'm an open book", he told the panel.
"I couldn't even admit, yeah I need those pills like, they're going to keep me balanced."
Porter revealed that he went to a doctor to discuss his health, after a friend expressed concern that he was unable to enjoy his on-stage success, which included a nomination Best Comedy Show award at the Edinburgh Comedy Awards and an IFTA Rising Star Award.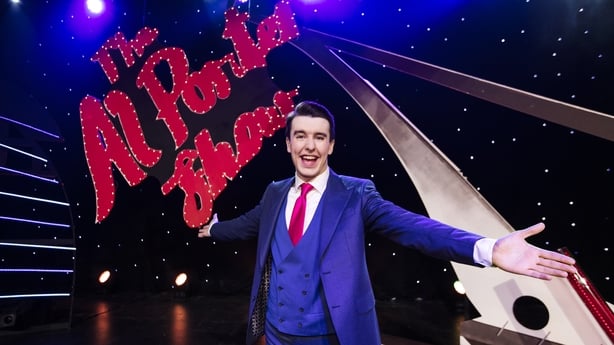 However he said that despite being prescribed anti-depressants he was still very reluctant to disclose the fact and had only told his mother two hours before going on air on Cutting Edge that he was taking medication.
"I am going to tell you something now that I didn't even tell my mam until two hours ago and I rang her because I knew I was going to say it to you."
He also revealed that the stigma about depression made him too embarrassed to discuss it with his family doctor.
"So I went to a doctor, wouldn't even go to my own doctor. I went to a doctor in Carlow so I could do outside of Dublin.
"He said. `look you need anti-depressants' and I never thought that I would be that person. And nobody in my family would think that I would be that person."
We need your consent to load this Facebook contentWe use Facebook to manage extra content that can set cookies on your device and collect data about your activity. Please review their details and accept them to load the content.Manage Preferences
Porter went on to say that the stigma he felt about his depression also led him to go to great lengths to hide the diagnosis from his family, including concealing his medication and having the prescription written out to different names.
"I have been hiding them in my house, I have had my friend go pick them up because I don't want to go in with the prescription, I've had the prescription written to different names than my own," he said.
He added that his own struggles have made him realise just how difficult it can be for people to deal with mental health issues and be open about them.
"If I can't cope with that, Jesus knows how someone who doesn't have the confidence that I have does and is in their bed for three weeks thinking `who am I going to get to pick them up for me?' At least I've a manager".
With his hands visibly shaking, Porter also produced the medication to show to the panel, and said as a result of taking them he was "functioning much better".
The comedian was widely praised on social media for his honest account of his struggles, including a pat on the back from fellow funnyman Dara O'Briain who said he hoped Al's openess would help to dispel some of the stigma that exists.
Well done @TheAlPorter! Can't have been easy to talk about depression, but will hopefully help destroy that stigma. https://t.co/o6VbCOEIEQ

— Dara Ó Briain (@daraobriain) November 16, 2016
#cuttingedge  I want to hug #AlPorter he is so brave, he had me in tears.

— Nell (@Nell496) November 16, 2016
it's about #Balance Life that is!! Fair play @AlPorter #CuttingEdge

— N. D.Brennan (@IALNILAM1968) November 16, 2016
My estimation of this man has just gone up by a million per cent #EvenComediansGetDepressed #AlPorter... https://t.co/7nhFuTUJL3

— Noeleen Smith (@NoeleenS) November 17, 2016
#CuttingEdge just wanted to say well done al porter

— John hennessy (@jthehen1) November 16, 2016
Samaritans: ROI (Free Phone) 116123, NI 08457 90 90 90, 24 hour helpline

The Aware Helpline: 1800 804848., 10am to 10pm Seven days a week
Watch Wednesday night's Brendan O'Connor's Cutting Edge on the RTÉ Player here.