Paul Howard, Graham Norton, Marian Keyes and rugby player Paul O'Connell were among the winners at the 2016 Irish Book Awards.
Howard, best known for his satirical creation Ross O'Carroll Kelly, triumphed at the annual event with with his long-gestating biography about Guinness heir and socialite Tara Browne.
The book, I Read the News Today, Oh Boy, was ten years in the making, and Howard said it was a relief to finally have it released.
Speaking to RTÉ Entertainment on the red carpet at the event, Howard said: "It's very gratifying. There is that thing when you put ten years into a book, there comes a point after about four years where you start to wonder if this is going to just be a book in your head or will it see the light of day!
"It's such a thrill to get it out there - it's such an extraordinary story, that I think was waiting to be told, and I feel really privileged that I was the one who got to tell that story."
The writer added that being a writer is a "very solitary life", joking that if he wasn't at the event he'd be "sitting at home in a t-shirt and boxer shorts".
. @AkaPaulHoward is only delighted to get out of the house for the 2016 @BordGaisEnergy Irish Book Awards. #BGEIBA pic.twitter.com/uHGo5UVkjA

— Entertainment on RTÉ (@RTE_Ents) November 16, 2016
Perennially popular TV host Graham Norton bagged the Popular Fiction Book of the Year award for his debut fictional novel Holding. The book, which is set in a remote village in Ireland, has impressed critics and fans with its tender and touching tone.
Novelist Marian Keyes took home the award for Popular Non-Fiction Book of the Year for her latest work Making It Up As I Go Along, which she said she had "fun" writing. The author added that she was most excited about getting to present bestselling writer Jilly Cooper with the International Recognition Award.
"I have loved her and read her for over 30 years and I can't believe that I'm actually going to be presenting her with the prize", she said.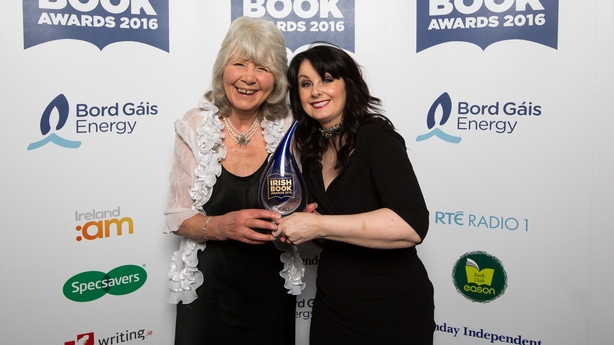 Speaking to RTÉ on the red carpet, Cooper said of the award: "I'm terribly overexcited! I haven't had a prize for years and years so it's lovely. Particularly [in] Ireland because I love Ireland so much and Ireland takes writers so seriously. [It's] heaven, absolute heaven."
Bestselling author Jilly Cooper is "terribly overexcited" to be the recipient of the International Recognition Award at the @BGEIBAS #BGEIBA pic.twitter.com/PzEizD2eFo

— Entertainment on RTÉ (@RTE_Ents) November 16, 2016
At the star-studded black-tie event, which saw a diverse mix of Irish celebrities from the fields of television, sport, literature and food in attendance, renowned poet John Montague was presented with the Bob Hughes Lifetime Achievement Award.
Meanwhile, rugby star Paul O'Connell won the Sports Book of the Year gong with his autobiography The Battle. The now-retired rugby legend said he was glad to have the distraction of writing the book when he was injured.
Although O'Connell admitted writing the book was "a tough process", he said "it was a bit of a blessing in disguise after my injury. It gave me a focus and something to really get stuck into and keep me busy during those months."
Highlights from the Irish Book Awards ceremony, along with interviews with the winners, will be broadcast on RTÉ One on Saturday November 19 at 11.15pm.
From November 17, the public can vote for their overall 'Bord Gáis Energy Book of the Year' by going to www.bgeirishbookawards.ie.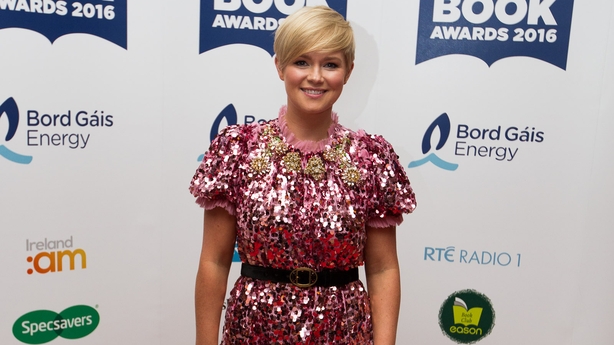 Take a look at the full list of winners at the Bord Gáis Energy Irish Book Awards 2016 below.
The Eason Book Club Novel of the Year
Solar Bones - Mike McCormack (Tramp Press)
The Journal.ie Best Irish Published Book of the Year
The Glass Shore – edited by Sinéad Gleeson (New Island Books)
The Sunday Independent Newcomer of the Year
Red Dirt – E.M. Reapy (Head of Zeus)
The National Book Tokens Non-Fiction Book of the Year
I Read The News Today, Oh Boy – Paul Howard (Picador)
RTE Radio One's The Ryan Tubridy Show Listener's Choice Award
Lying In Wait – Liz Nugent (Penguin Ireland)
The Specsavers Children's Book of the Year (Junior)
Pigín of Howth – Kathleen Watkins, illustrated by Margaret Anne Suggs (Gill Books)
The Specsavers Children's Book of the Year (Senior)
Knights of the Borrowed Dark – Dave Rudden (Puffin)
The Avonmore Cookbook of the Year
The World of The Happy Pear - Stephen and David Flynn (Penguin Ireland)
The Irish Independent Popular Fiction Book of the Year
Holding - Graham Norton (Hodder & Stoughton)
The Ireland AM Popular Non-Fiction Book of the Year
Making It Up As I Go Along – Marian Keyes (Michael Joseph)
The Bord Gáis Energy Sports Book of the Year
The Battle - Paul O'Connell (Penguin Ireland)
The Books Are My Bag Crime Fiction Book of the Year
The Trespasser - Tana French (Hachette Ireland)
The Writing.ie Short Story of the Year Award
The Visit – Orla McAlinden (Sowilo Press)
The Listowel Writers' Week Irish Poem of the Year
In Glasnevin – Jane Clarke (From: The Irish Times)