A gnarled and wise Iggy Pop is our main guide in this account of the rise and fall and rise again of dangerous US punk pioneers The Stooges
Towards the end of Jim Jarmusch's affectionoate documentary about feral rock `n' roll trailblazers The Stooges, we are treated to some archive footage of frontman Iggy Pop being interviewed by two preppy US chatshow hosts.
It is sometime in the seventies and The Stooges' scorched earth era is over. Asked if he thinks he has been an influence on anyone, rock's great contortionist, slouched good-naturedly on a sofa, drawls, "I think I helped wipe out the sixties."
Any number of vinyl reissues, crap t-shirts and designer festivals tell a diferent story but Jim Jarmusch's loving film lets the spotlight lurch momentarily from the corpse of the hippy dream onto the pure dread and destruction of the unsung - up until quite recently - legacy of The Stooges.
We need your consent to load this YouTube contentWe use YouTube to manage extra content that can set cookies on your device and collect data about your activity. Please review their details and accept them to load the content.Manage Preferences
The band exploded like an acne eruption from Detroit (Motor City itself) in 1967 and in seven frenetic stop-start, fall over, and start again years, unleashed a real seismic rumble of nihilism across suburban America just as things started to get very ugly indeed, both politically and socially. Plus ca change, as they say in Ann Arbor.
Sure, The Stooges story has been told before and you can still hear the mighty roar of bug-eyed defiance on their three key albums but Jarmusch reckons it's time to revisit this tale of drugs, burn-out, more drugs, and peanut butter all over again.
However, don't expect anything but a kind of fond hagiography from the director of Down by Law and Night on Earth; he's been a friend of Mr Pop for some years now but interestingly, Gimme Danger starts at the end or at least, one of the endings, of The Stooges.
It is 1973 and Iggy, bassist Dave Alexander and the Asheton brothers are in a state of frazzled, wasted collapse after another punishing and confrontational tour. They all catch the bus back to Detroit defeated by their own excesses and the seething rebellion they have fermented in their own audience.
It will take decades before The Stooges' true worth is measured and Jarmusch spends the rest of his film piecing together their origins with the zeal of a true fan boy but also with real forensic detail.
Detroit, where Jarmusch set his wonderful vampire black comedy Only Lovers Left Alive, is the backdrop but the rock `n' roll Babylons of Chicago, LA, New York and London also feature. Of music there is plenty but the stand-out is a blistering live performance of Search and Destroy that really does capture the hit (hard) and run attitude of the gigs.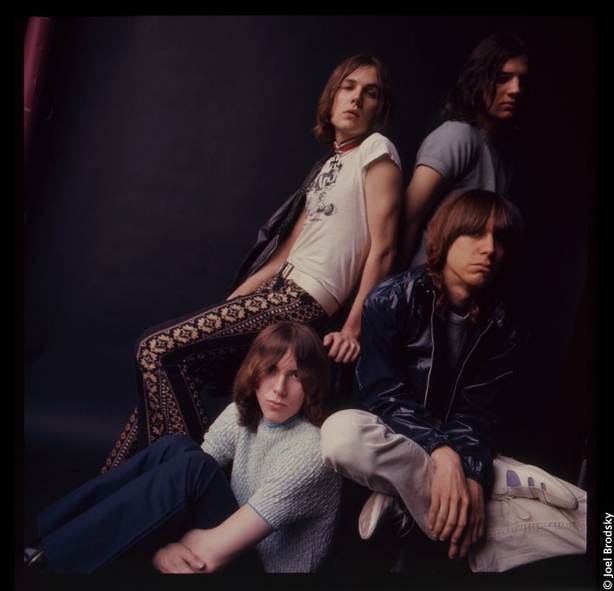 The Stooges; a tale of drugs, burn-out, more drugs, and peanut butter
Jarmusch takes Julien Temple's approach to the rock doc and uses cut-ups, archive TV (Iggy avers that he learnt his short and sharp writing style from a kids' show called Soupy Sales) and film footage from the 1950s, as well as crude animation to re-create pivotal moments and encounters.
Gimme Danger is particularly good on how modern carriers of the Stooges' sputtering flame like Mike Watt and J Macais inspired the band's decision to reunite in 2003 and 2009 for shows and two new albums. Watt, in particular, is an articulate and impassioned friend and fan.
Read acclaimed Irish film maker Paul Duane's appreciation of The Stooges, the band that saved and changed his life
Other than the main players, the cast of characters and walk-ons in Gimme Danger is a roll call of the era. Andy Warhol, Art Garfunkel, Jimmy Webb, David Bowie, Patti Smith, Lou Reed, The Stooges' "big brother" contemporaries The MC5, Nico and John Cale all pass through this ripping rock `n' roll yarn.
But there is only one star here. Sitting in the very canary yellow trailer where he essentially grew up with his very understanding parents, Iggy is a wise and funny witness to the carnage. The sole survivor of the madness, his weathered and leathered face is a map of a million stories but neither he, nor Jarmusch, needs to tell you how great The Stooges were. Just listen to the records.
Alan Corr @corralan