Bono has urged US president Donald Trump to make gender equality "a priority" and to address the problem.
The U2 singer received Glamour magazine's first Man of the Year award at a ceremony in LA on Monday night. The award was presented to him by actress and comedian Amy Poehler.
She initially joked "What an exciting time for men. Can you feel it? Finally! There's something in the air tonight." However she then went on the praise the Irish singer saying, "People like Bono give me faith in men...he has dedicated his life to being a light for so many who are scared and alone".
#Bono accepts his #GlamourWOTY honor w/ self-deprecating, thoughtful and touching speech. I almost cried? pic.twitter.com/nrm5fd6r1Y

— Carly Mallenbaum (@ThatGirlCarly) November 15, 2016
Bono acknowledged some of the criticism that was initially made when it was announced that he was to receive the award.
"I know how ridiculous it is for me to be on this stage accepting this award. But if I didn't know how ridiculous it was, I did have the blessed internet to remind me," he said in his acceptance speech.
"As my daughter Jordan says, there is nowhere on earth where women have the same opportunities as men.
"Unless we address this problem, both men and women together, the world will continue down this misogynistic, violent and impoverished path.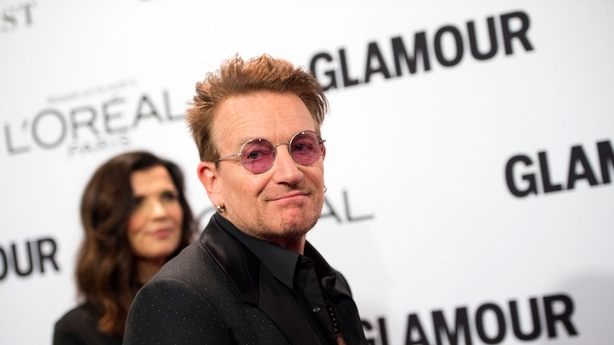 Bono went on to say to Trump "look across to women, make equality a priority, it is the only way forward. The train is leaving the station, be on it or be under it."
In September, Bono lambasted Trump calling him the "worst idea that ever happened to America".
56-year-old Bono also mocked the US president-elect and his proposed border wall before performing Bullet the Blue Sky at a concert in San Francisco last month.
We need your consent to load this YouTube contentWe use YouTube to manage extra content that can set cookies on your device and collect data about your activity. Please review their details and accept them to load the content.Manage Preferences