While many voters and observers in the United States and around the world have been left reeling after Donald Trump's surprising victory in the Presidential election others have found refuge in humour.
A host of hilarious memes have been surfacing on Twitter, imagining what outgoing President Barack Obama and his Veep Joe Biden have been plotting to prank Trump when he finally makes it to the White House.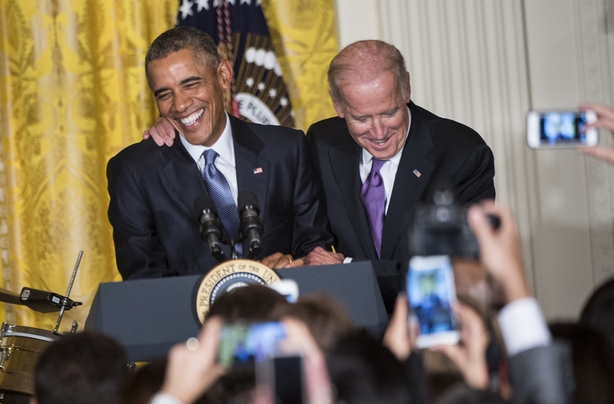 If the Twitterati are anything to go by, the duo are like a pair of giddy schoolboys dreaming up a whole host of escapades to confound and embarrass the new President and his Vice President Mike Pence.
Though based on these examples it does seem as if Biden is the ringleader.....
Obama: Did you replace all the toiletries with travel size bottles?
Biden: He's got tiny hands Barack, I want him to feel welcome here pic.twitter.com/e7NRIZ43Ww

— Josh (@jbillinson) November 11, 2016
Obama: "Joe, why are you still holding my hand?"
Biden: "I wanna freak Mike Pence out"
Obama: "But why?"
Biden: "Just roll with it" pic.twitter.com/o5KZZ0Ysgz

— thomas moore (@Thomas_A_Moore) November 12, 2016
Biden: I painted "Michelle Obama 2020" on your bedroom ceiling

Obama: ??

Biden: Glow in the dark paint pic.twitter.com/s07i5g4gRT

— Crutnacker (@Crutnacker) November 13, 2016
Biden: What if we paint the Mexican flag in the office
Obama: Joe, no
Biden: I already ordered the paint
Obama: Joe pic.twitter.com/mCCh6OPQRk

— dan // pinned if unf (@tragecies) November 11, 2016
Biden: mikey, i have to tell you something

Pence: what is it

Biden: ive hidden whoopee cushions under all the chairs in the white house pic.twitter.com/PNbdoDx3kW

— rudy mustang (@roostermustache) November 11, 2016
Biden: I changed the wifi password.
Obama: Joe...
Biden: It's "PssyGrbbr45" now.
Obama: No, Joe.
Biden:... pic.twitter.com/hA6ozU0Hww

— Khary Penebaker (@kharyp) November 12, 2016
Joe: I told trump that there was important meeting in a room but it was a broom closet & now he's locked in there

Obama: lmao good one joe pic.twitter.com/ACrOHYuviF

— daddy nicky™ (@preciousadidas) November 10, 2016