The creators of The Simpsons have acknowledged their bold - and as it turns out accurate - prediction from sixteen years ago that Donald Trump would make it all the way to the White House.
In the opening sequence for the latest episode of the long-running series, Bart Simpson is seen writing "Being Right Sucks" repeatedly on Mrs Krabappel's blackboard.
Back in 2000, in an episode called Bart to the Future, he gets a vision of the future in which America has been crippled financially under a Trump presidency and is relying on bail-outs from China and Europe.
The Simpsons also depicted Trump as US President in a more recent episode called Trumptastic Voyage.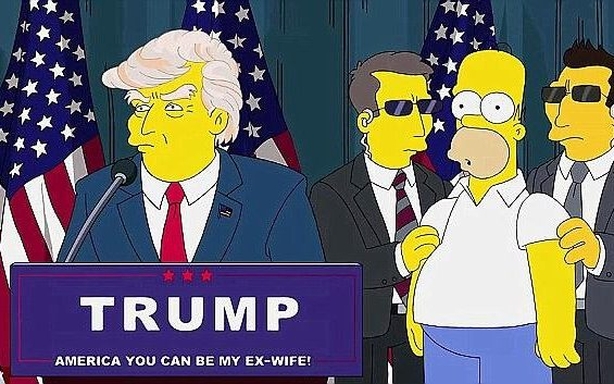 One of the long term writers of The Simpsons, Dan Greaney recently explained that "It was a warning to America".
"That just seemed like the logical stop before hitting bottom. It was pitched because it was consistent with the vision of America going insane."
Earlier this year, the show officially endorsed Hillary Clinton, releasing a clip of Homer and Marge discussing who to vote for, before settling on the Democratic candidate.
The Simpsons updates its 2000 prediction of a Trump Presidency... #TheSimpsons pic.twitter.com/Myf5rYb9Dj

— The Simpsons (@TheSimpsons) November 14, 2016
However for those who might be losing faith in American politics, The Simpsons also predicted that Trump would be succeeded by a strong female President - in this case Lisa Simpson - who has to clean up the mess left by his administration.
"As you know, we've inherited quite a budget crunch from President Trump," she says to her advisers.
We need your consent to load this YouTube contentWe use YouTube to manage extra content that can set cookies on your device and collect data about your activity. Please review their details and accept them to load the content.Manage Preferences