Ah, hindsight. Looking back at the years when Dwayne Johnson traded as the Rock from the top rope in the WWE, there always seemed to be something of a repressed song-and-dance man about him - the kind of performer who'd be as good at swinging a top hat and cane as a fold-up chair. 
Well, as the old movie chestnut goes, "our destiny chooses us", and now we finally get to hear the big man reaching for the high notes in Moana. It was worth the wait.
Take a bit of the go-it-alone guts of Brave, some of Frozen's fight for freedom, turn up the temperature by pitching up in the Pacific and you've pretty much got Disney's latest in a coconut shell. Our titular hero (Carvalho) wants to lose the shackles of succession that come with being an island leader-in-waiting, jump in a canoe and give the O'Donovan brothers something to worry about by rowing like a rebel beyond the safety of the reef.
It's not just a personal quest, either: the crops are failing, the fish have disappeared and time is running out to find Maui (Johnson), the lovable rogue god who can turn things around - if he's arsed. Let's hope Moana gets him on a good day.
We need your consent to load this YouTube contentWe use YouTube to manage extra content that can set cookies on your device and collect data about your activity. Please review their details and accept them to load the content.Manage Preferences
While the idea of a Dwayne Johnson solo album would be best kept by the man himself for moments of bathroom-based rumination, what the gentle giant lacks in polish he more than makes up for in heart. He's in the best of big lungs form here and that quote about how his Central Intelligence co-star Kevin Hart is a "comedy Swiss Army knife" also applies to Johnson's skill of turning his hand to anything he puts his mind to. Forget Baywatch, he should be thinking Broadway.
The early stages of Moana will, like Brave and Frozen, be a little too girly for the, ahem, tough guys in the audience, but once Johnson gets in full flow the pacing picks up and he predictably steals the show, sending himself (and his pecs) up in the process.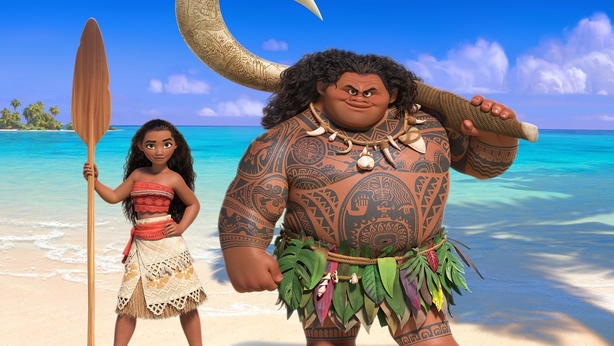 There's lots of singing (including a Bowiesque gem on the ocean floor) and dancing and some smart points about helicopter parenting, refusing to settle for less and how you really don't have to be ripped to be strong.
Some scenes are a little drawn out (no pun intended), but far worse things happen at sea. The man for all seasons will give you a nice break from the madness of the one we're in right now. Don't be surprised if you're singing - badly - all the way home.
Harry Guerin