Miley Cyrus has posted an emotional video message on social media on her feelings about the outcome of the US Presidential election during which she breaks down crying several times.
The controversial singer welled up when she discussed her support for Hillary Clinton and her former Democratic rival Bernie Sanders and how disappointed she was that the United States failed to elect its first female President.
Between sobs she tells the camera that "I've been very vocal about my support for everyone - except Donald Trump".
"Heavily supported Bernie - heavily supported Hillary. And that's what makes me so sad. I just wish she had that opportunity because she's fought for so long and because I believe her when she says that she loves this country."
❤️💙❤️💙❤️💙 pic.twitter.com/kuETRP7tb0

— Miley Ray Cyrus (@MileyCyrus) November 9, 2016
The singer also references the charity she runs - the Happy Hippie Foundation - which campaigns on youth homelessness and LGBT issues, before she goes on to say she accepts Trump as President.
"Happy hippies we adjust and we accept everyone for who they are".
"So, Donald Trump, I accept you. And this hurts to say but I even accept you as president of the United States and that's fine."
She begins to sob again as she thanks President Obama for all he has done in office before he launches into an emotional plea to Donald Trump.
Please just treat people with love, and treat people with compassion, and treat people with respect, and I will do the same for you. If you want to open your mind and open your heart, I would love to give you a key.
Yesterday a number of well known celebrities came out to voice their displeasure at Trump's win, including Seth MacFarlane, Jessica Chastain, Chris Evans, Katy Perry and Lady GaGa.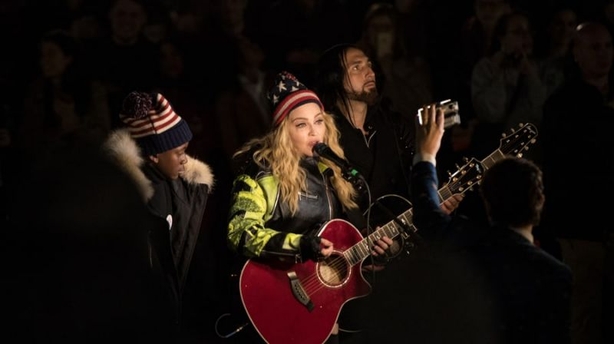 A number of well known names had openly campaigned for Hillary Clinton and in the closing days of the campaign the likes of Bruce Springsteen, Beyoncé and Jay Z and Madonna had performed free concerts to help drum up support for her.