Former Top Gear host Richard Hammond has said he never had any doubts that he would work again with "old and fat" co-presenters Jeremy Clarkson and James May, because to break up the team would have been "stupid".
After a series of controversies, Clarkson was sacked by the BBC for assaulting Top Gear's Irish producer Oisín Tymon while on location in March 2015, with co-hosts May and Hammond and show boss Andy Wilman deciding to leave the BBC series shortly after.
The quartet are set to unveil their new globetrotting motoring show, The Grand Tour, on Amazon Prime Video on November 18 with Hammond telling the Press Association: "We're better together, the four of us."
"Because we've all four worked - for 28 years in the radio and TV I've done - and the others similarly long times. But what have we ever done, any of us, that has been on this scale if we haven't been together?" he continued.
"For whatever reason, as a machine, as a unit we're more than the sum of our parts and to break up would be stupid. Come on, I'll never get the chance to work with another bunch like that lot."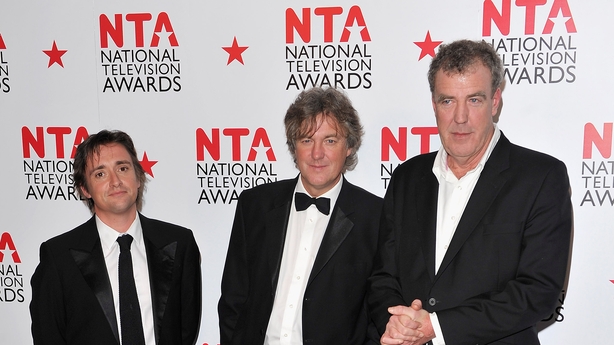 May described his co-stars as "deeply annoying people" and said the crew were also part of a "big, dysfunctional family".
"But it is our dysfunctional family," he added.
"What keeps us there?" asked May. "To be honest, because we still, even after all these years, we still enjoy doing it. You really couldn't do it if you didn't get a bit of a kick out of it, if you didn't have a little bit of an ego, because you have to have one really to appear on the TV, and if we didn't just find it stimulating."
The Grand Tour takes place in a giant travelling tent with Amazon committing to 12 episodes a year with the three presenters for three years. In August, Wilman premiered footage at the Edinburgh International Television Festival which featured May driving with a broken arm; Clarkson driving in a flak jacket and goggles as May shoots at him and Hammond waking up in a car that has been airlifted. Cars featured included Maseratis, a Rolls Royce and a Porsche, as well as Clarkson on a jetski.
Describing their Amazon deal as "the best route" for the weekly show, Hammond said Top Gear fans who subscribe to the streaming service will find no change in the presenters' chemistry.
"It has still got to feel like us, because if you liked us, we can't suddenly come back and be completely different," he said.
"I can't be cultured and intelligent; Jeremy can't be mechanically minded. We have to carry on being what we were in terms of attitude and voice. People have got to find that or they'll wonder where the bloody hell we've gone to. So that can't change, but it's got to be better."
Just to prove that the edge remained, Hammond took some shots at his co-stars.
"I'm 10 bloody years younger than them, people forget about that!" he laughed. "They're very fond about saying, 'It's three fat, old men'.
"Hello! Wait a minute. I'm 46, they are in their 50s. They are ancient. To be fair, they've looked after themselves. Oh no, wait..."