Ryan Tubridy has revealed that he was somewhat lost for words when he first encountered Bruce Springsteen in a London hotel lift ahead of their Late Late Show interview which airs tonight.
The interview, an Irish exclusive, is the first time in almost 30 years that the Late Late has left the country to meet a guest. Tubridy told listeners to his RTÉ Radio 1 show on Friday that he arrived to interview Springsteen at London hotel Claridge's well ahead of his allotted time - but ended up meeting the music legend much sooner than he expected.
"I was due to be there at 4:45, I got there at 4:15 - just to be sure, to be sure," he explained. "I had to go to the sixth floor, but I suppose in the run of things, whatever, [I] pressed the sixth button and the lift got to a floor, and the lift doors opened.
"As we were trying to get out of the lift there were three people standing trying to get into the lift. You know when you get out of the train and you see people trying to get on? It was Bruce Springsteen, with two [other] heads."
If playing it cool didn't exactly go out the window, Tubridy said it did go out the door.
"I looked at him and I had that moment that you have when you meet somebody really famous that you've never met before, which is, 'You're not real. You're from Madame Tussaud's or you are a cartoon and you can't be standing in front of me at a lift trying to get in because I'm trying to get out, because that's just too weird'.
"I said, 'Oh hello!' and I stuck my hand out and said, 'I'm talking to you'. And he said, 'Yeah, I know!' And I said, 'I mean later!' Oh God!"
Tubridy then got out of the lift, only to realise he was on the wrong floor. "I was meant to be floor six but it was floor three," he admitted. "But it was just a bit tricky - if he'd got in the lift with us we would've been looking at each other going, 'What's going on here?'"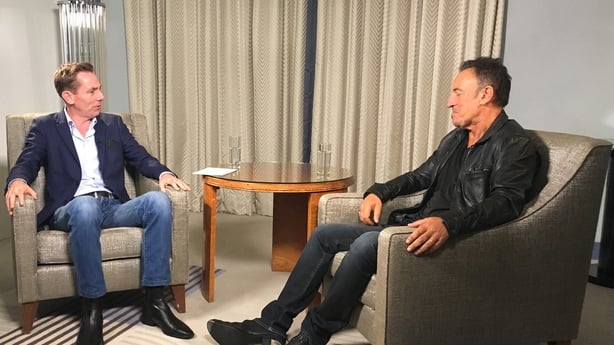 Just before the interview began, there was another surprise for Tubridy as he gave Springsteen the bottle of whiskey he had brought him as a gift.
"He was really into it, so much so that he opened the box, took the bottle out, uncorked it, asked for two glasses for us to have a whiskey during the interview," he told listeners.
"I said, 'Look, I can't drink and interview so I'll hold off because I'd love a jar but I'm useless with it so I'd be a bit all over the shop now if I did it'. So I said, 'Hold off that but you have one'. He said, 'I'd love one'. So he poured himself a nice shot of that and when you're looking at the interview later on you'll see the glass.
"It made it very relaxed, like old school chat show where you can smoke or drink during the chat. And he just chilled out."
Summing up the encounter, Tubridy said: "He was charming, he was insightful, he was giving, he was warm. He loves his Irish fans, and I think that all comes out in the interview."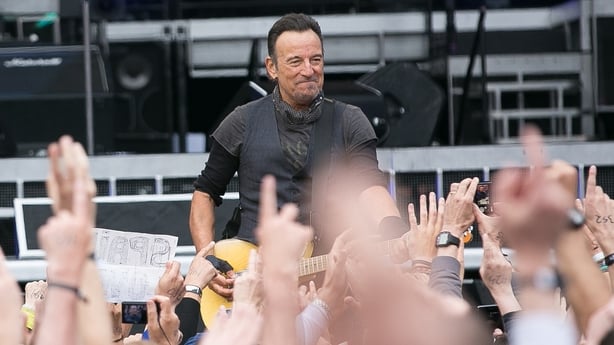 Among the guests back in the Late Late studio on Friday night will be Olympic hero Rob Heffernan and his coach and wife Marian, who will share their feelings about receiving a medal four years after London 2012.
Broadcaster Jeremy Paxman will discuss life on and off-camera, while model-turned-presenter Vogue Williams will preview her new series, Vogue Williams: On the Edge.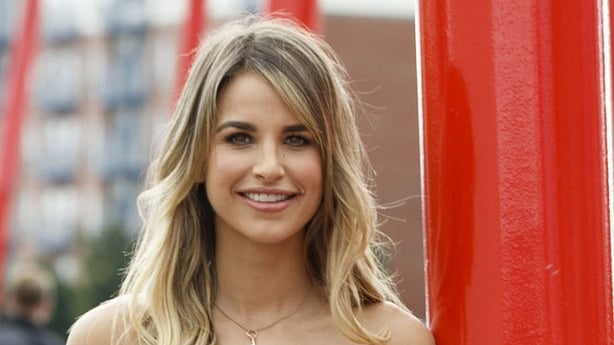 Designer Don O'Neill will talk about dressing some of the world's most famous women and music on the night will come from the Sugarhill Gang and John Spillane.
The Late Late Show is on RTÉ One on Friday at 9:35pm.