Cork singer Mick Flannery rages against society's manifold injustices on his blistering new album I Own You. But this being Mick Flannery, there is also time for dark humour and sadness. He talks to Alan Corr
It is lunchtime on Budget Day in a half-full/half-empty bar in Dublin city centre and Mick Flannery is trying to make himself heard over the sound of Common People by Pulp on the pub's speakers. He places his cheeky mid-day pint down on the table and avers, "Well, at least I'm competing with the greats."
32-year-old Flannery has just returned with his fifth album and a new set of hard-hewn songs that deal with the pain of the common people - common people like him. It goes by the stark title I Own You and it offers up a rather different side to the man who formerly made a cent as a stone mason in his native Blarney.
Whereas before, bitter regret and sorrow hung over his words, now rage erupts. As Flannery says with typical understatement, "This album contains 50% more social awareness."
To get an understanding of his current state of mind, you need look no further than the stark, sepia-toned cover of I Own You. There, in front of a burnt-out house in the Irish midlands stands a lone figure in a white t-shirt, holding a golf club and, most striking of all, wearing an animal mask on their face - horns jutting off at angles.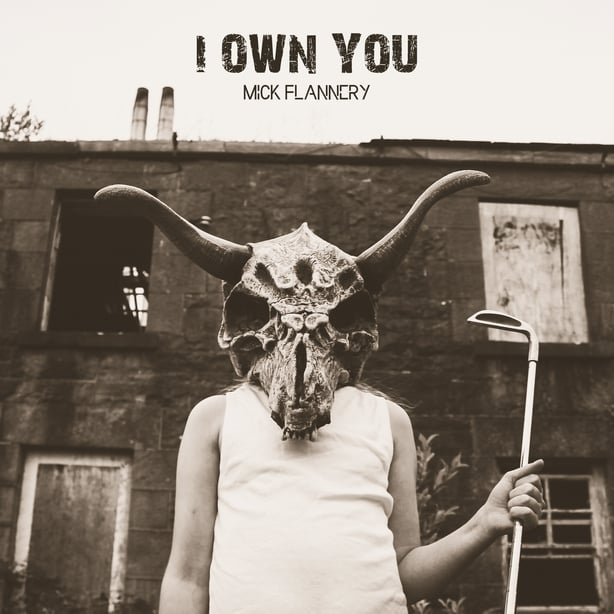 I Own You is out now
"I had a notion of portraying the disenfranchised and the powerless with the image of a child," says Flannery. "My girlfriend Susie took the photograph. The child seems to be playing with the golf club but it's also a weapon. I suppose it's a symbol of betrayal but it's supposed to be ominous."
It certainly is and the child in question is his nine-year-old step daughter. That album cover offers up a premonition of where the Blarney singer's head is at after establishing himself as one of the best songwriters in the country over four albums, the last two of which were No 1s in Ireland.
His first influence was Tom Waits, an early champion of Flannery, and he previously harked back to the holy trinity of Cobain, Dylan and Cohen. However, on I Own You, there is less of the waltz time sadness; now he has something of the barely-controlled anger of Loudon Wainwright III and John Prine.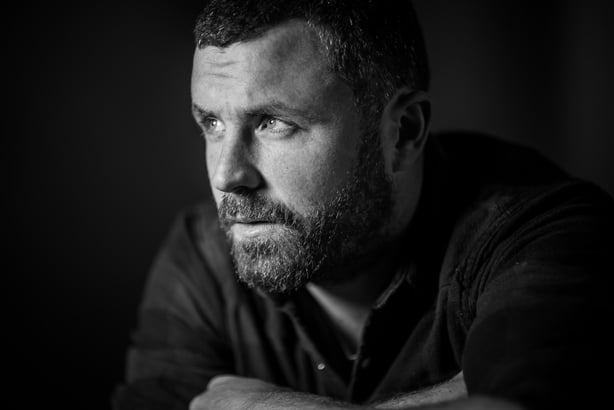 Mick Flannery: "When you hit your thirties, your ego takes a little dip."
So what changed? "The human condition part of coming into your thirties, you'd just forgotten to give a f*** about yourself," Flannery says. "`Ah, Jesus Christ! Here I am again!' So you don't see yourself much as an individual anymore. When you hit your thirties, your ego takes a little dip. I got bored with myself. That's natural isn't it? A friend of mine has a line in one of his songs that says, `Most days I don't believe a single word I say."
So instead of pouring his wounded heart into well-made songs of betrayal (and that's betrayal both by him and by others), Flannery got blood-curdling and deadly serious. The sparse lyrics on the title track are ground out with spleen-venting rage and he spews up startling images of a broken society on scorching songs such as Cameo and One of The Good Ones.
There is a liberal use of the f word and on one song, the central character wishes death on bankers and judges. The tipping point came when Flannery was living in Baltimore in the US during one of his frequent attempts to settle - at least for a while - outside of Ireland (he currently lives in Ennis with Susie and her daughter).
"I was in Baltimore. The Freddie Grey thing had happened," he says referring to the local man who died in hospital from spine injuries six days after being arrested by police. "Those stories from American come over to Ireland but the images are so stark."
Can Flannery's new songs also be read as referring to Ireland as well? "You'd always hope so," he says. "The reason I use America is because it spearheaded Capitalism. No other country is going `Yay!! Capitalism!' We're just kinda getting dragged along by it. Corporations are dictating to us.
"I'm reluctant to speak with any authoritative voice about these matters because I'm not well-read enough to have the facts and stats," Flannery continues haltingly. "What I could says is that the direct provision stuff is not very inspiring, is it? It's not a proud element of our society. There's not many white people in those places . . .
It is a time for protest singers but - to paraphrase Edwyn Collins - there's not enough protest songs. At least these dangerous times have given songwriters like Flannery plenty of material. However, with precious few exceptions, his Irish contemporaries seem to be content to pen tunes about non-specific heartache rather than engage head on with the issues facing their audience.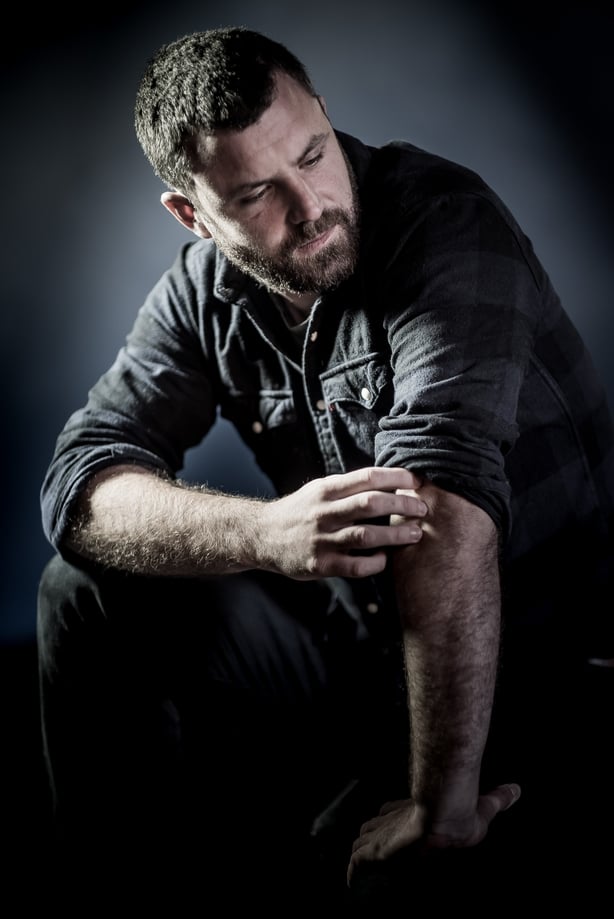 "My argument is very broad. I'm against greed."
"I don't think about what other singers are doing," he says diplomatically. "It's hard to think on those lines because you'd have to admit that you are doing it to be doing it as opposed to doing it because you felt it. That would be a self-righteous way to look at things."
The bone-aching sincerity of album track Cameo contains at least one lyric that would be too difficult to reproduce on a family website like this. Even the seemingly touching One of The Good Ones throbs with real menace and foreboding and lyrics about how slavery is alive and well.
However, it's not just the lyrics that have taken on a darker hue on I Own You, which was produced by Christian Best and written in Cork and Clare. Flannery says he was listening to Kendrick Lamar while working on his own new songs, a genre of music he hadn't explored before.
"I listen to Eminem alright. His music was so lyrically-based that he almost forsook a lot of his arrangements and production," Flannery says. "Whereas Kendrick has a very good mix of both - his message is clear but the delivery is so enjoyable. He has is a motif on his album about the abuse of power. I think that it's great that he's as successful as he is. It harks back to the more to the more responsible elements of hip hop, none of all that 20-inch rim talk."
Perhaps Flannery was beginning to see the limitations of one man with a guitar and a piano. "Well, for a long time it was just Christian and I in the studio - him on drums and me warbling - so the beat became more important than any guitar or piano parts, more hip-hop based, the reason it sounds a little bit more modern . . . "
Flannery pauses and begins again, "My argument is very broad. I'm against greed, against the dis-empowerment of people and the commodifying of people. Our beholdness to banks, our lack of sovereignty . . .
"The wealth and poverty in the world and how it's come to such a pointed degree and how it's so glaringly obvious! Greedy people have just got their way and the gap between them and everybody else is not getting any smaller. How much can we take?"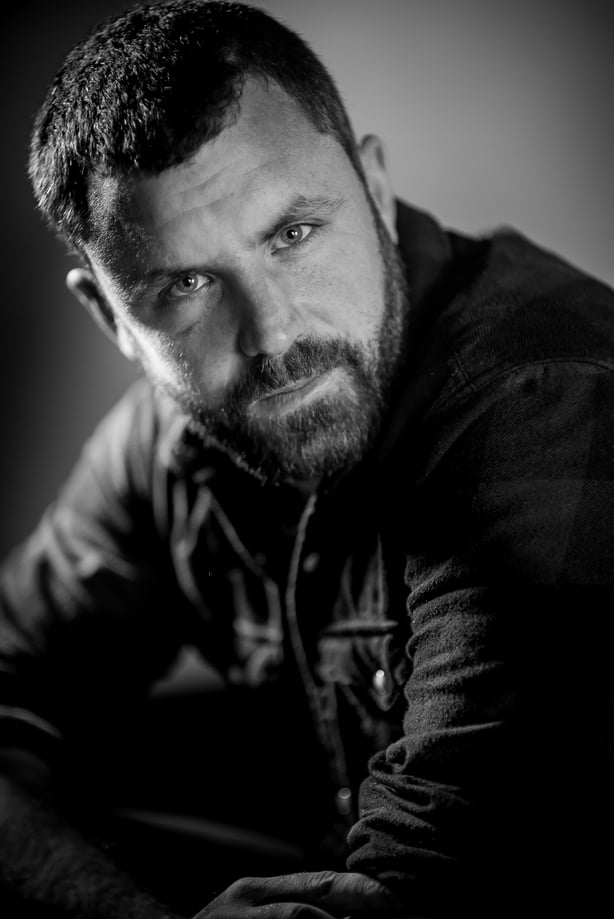 He uses the made-up word `falliblist' once or twice as we talk. "It's the overarching feeling in life that I could be wrong about all of this," he explains. "But I could be wrong about being wrong as well . . . "
Just as I get up to leave, Rage Against The Machine begins to erupt out of the pub speakers. Flannery merely smiles. There is nothing more that needs to be said.
I Own You is out now. Mick Flannery plays Kavanagh's of Portlaoise on Friday, October 21 and The Olympia Theatre, Dublin on Saturday, October 22.
Alan Corr @corralan