A dirty glass that's claimed to have been used by Justin Bieber is on sale on eBay with bidding currently standing at more than €72,000.
Last week it was reported that Bieber had a pub lunch at the Kings Oak Hotel in Essex, ordering salmon and mash with a glass of milk with his bodyguard before going for a stroll in the local forest.
While staff sneaked a couple of pics of the singer, who's currently on a UK-wide tour, one managed to go even further. An eBay seller claiming to be an employee at the hotel has listed what they say is Bieber's used and unwashed glass on the online auction site.
Bidding stands at £65,900 (around €73,760.35) after 86 bids. The minimum bid was originally just £10.
The listing description reads: "I work at the Kings Oak Hotel where Justin Bieber was seen yesterday having dinner and we kept his milk glass, it hasn't been washed!"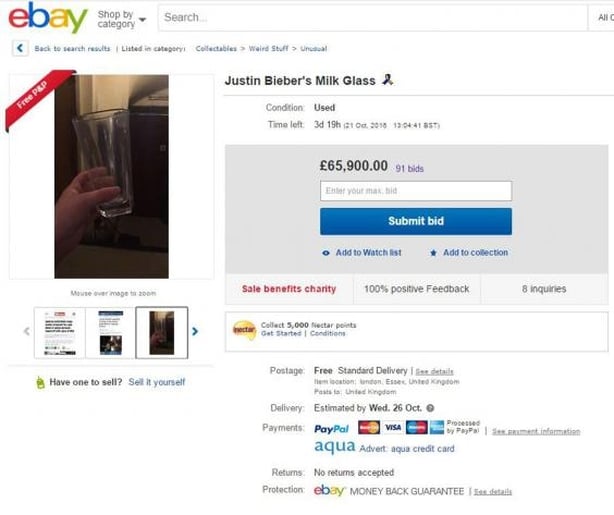 The assistant manager of the hotel, Amy Potter revealed that the idea of selling the glass online was initally a joke.
"All these school kids turned up [after Justin left] and we gave his water bottle to them but we had put his stuff to the side and then said, 'Let's put it on Ebay for a laugh and see what we can get for it,'" she said.
If you fancy making a bid yourself or simply want to marvel at this highly-sought curio, you can check out the advert here. However it looks like you might have to stump up the full cost of postage and packaging.