Oscar winning film-maker Michael Moore surprised fans after he released an anti-Trump documentary last night with just three weeks to go the US Presidential election.
The movie, Michael Moore in TrumpLand, was filmed just eleven days ago and details of it were only announced yesterday on his Twitter account. It was shown at a free screening last night at a Manhattan movie theatre, ahead of a cinema release in Los Angeles, New York and on iTunes.
Hey NYC- Who wants a peek @ what I've been up 2? Tues, 9:30pm, IFC Center. TIx free, 1st come, b.o. opens 8:30pm. pic.twitter.com/SrAhaq74ME

— Michael Moore (@MMFlint) October 18, 2016
The movie is a filmed version of a one man show about Donald Trump and the Presidential Election that he performed in the heart of Republican country in Ohio.
The official description read "See the film Ohio Republicans tried to shut down. Oscar-winner Michael Moore dives right into hostile territory with his daring and hilarious one-man show, deep in the heart of TrumpLand in the weeks before the 2016 election."
The line started hours ago and is now way down around the block! Wow. Thank u everyone. #TrumpLand #OctoberSurprise pic.twitter.com/2NrQrJEz8R

— Michael Moore (@MMFlint) October 19, 2016
During the lecture Moore - who during the summer wrote an article on how Trump would win the election - launched a scathing attack on the Republican candidate and advocated that voting for Hillary Clinton is the best option for American voters despite having supported her rival Bernie Sanders in the primaries.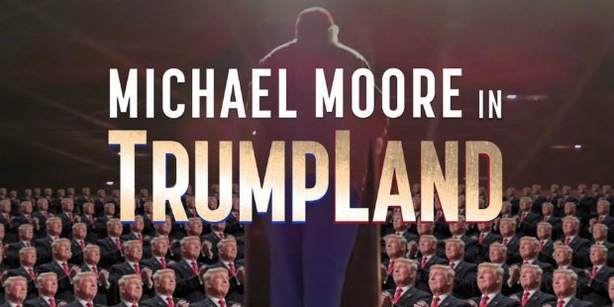 In its review Variety said the documentary was a "political love letter to Hillary Clinton from someone who wouldn't have written that same letter eight months ago" while The Guardian said it was "a mix of a TED Talk and Spalding Grey-esque monologue" which was unlikely to change too many minds before polling day.
Moore is known for left-leaning political activism and his fierce opposition to the Republican presidential nominee.
In 2004, he took on George W. Bush in Fahrenheit 9/11, which went on to become the highest grossing documentary of all time but failed to swing the election in favour of John Kerry.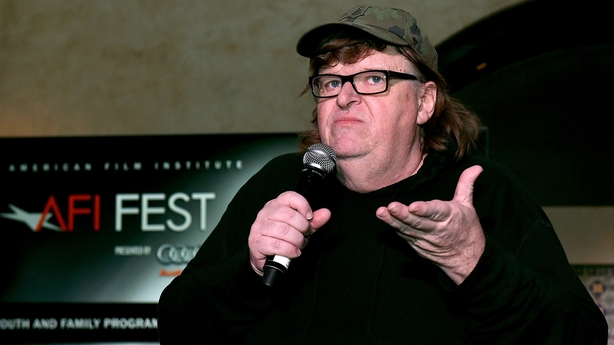 Earlier this year he released the documentary, Where to Invade Next, a humorous polemic on how the United States can learn from other countries.
He told RTÉ Entertainment at the time that his sense of humour and radical politics were a legacy of his Irish-American ancestry.
We need your consent to load this Facebook contentWe use Facebook to manage extra content that can set cookies on your device and collect data about your activity. Please review their details and accept them to load the content.Manage Preferences
"First of all, growing up as an Irish-American, you have a sense of humour that is a bit dark and sometimes a little warped, but very necessary in order to deal with all the darkness in the world...So I think having a sense of humour comes very much from the Irish in our family and I'm appreciative of that."