Inferno director Ron Howard has said that Tom Hanks was the driving force behind taking Inferno to the big screen.
Howard has re-teamed with Hanks for their third Dan Brown adaptation following the huge success of The Da Vinci Code and Angels & Demons, which together earned a whopping $1.2 billion in the box office.
"Tom finished reading the book first and he said 'Have you finished it yet Ron?' and I said 'No' and he said 'Well finish it I think we're on to something here", he told RTÉ Entertainment in London.
"We're not under contract to do these movies but when Dan writes one that we believe can make really great entertainment for audiences we get excited about it."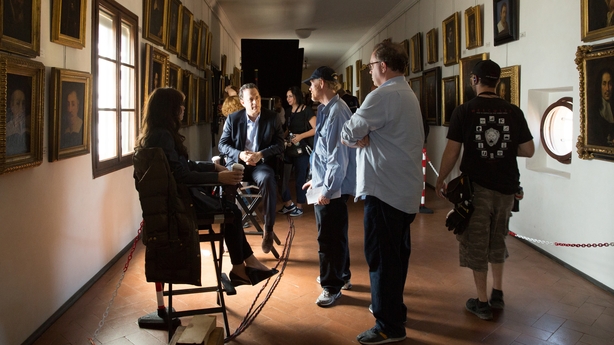 Apart from the Dan Brown franchise, the Oscar-winning director of A Beautiful Mind has also worked with Tom Hanks on Apollo 13 and '80's favourite Splash. He says the actor has a knack for setting a relaxed atmosphere on set.
"I know when you have somebody like Tom as the star of the film, setting that kind of tone, everybody else tends to emulate that", Howard told RTÉ Enterainment. "I think people tend to keep their neuroses in check."
#Inferno director @RealRonHoward says he has a shorthand with @tomhanks having worked with him so many times. https://t.co/B7kzZBOqWg pic.twitter.com/18UHaeVxg0

— RTÉ Entertainment (@RTE_Ents) October 13, 2016
He added of the Inferno cast, which includes British actress Felicity Jones, Borgen star Sisde Babett Knudsen and Ben Foster "was a particularly cool, grounded international group. I really loved this cast, they're young, they're interesting, very charismatic and brought a lot to the movie."
Howard of course has also worked in Ireland in the past and directed the very Oirish ("You're a Corker Shannon") Tom Cruise and Nicole Kidman movie Far and Away. Today he fondly recalled that experience on when speaking to The Ryan Tubridy Show.
"When I ask my kids, who would always go with me on location …. If I say what's your favourite location of all the adventures we went on, it's always Dingle. They just thought that was magical. And it was, for all of us."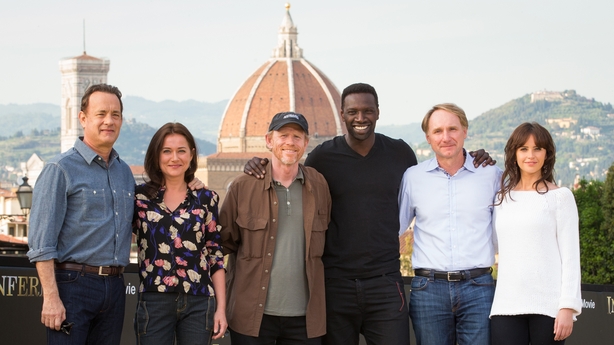 Having worked together many times before, Howard says that he and Hanks have a special understanding while filming, even if Hanks sometimes jokes he's a bit of a "taskmaster".
"We definitely have a shorthand but we almost always did because we're very like-minded in terms of the work, our taste and the work ethic, our approach to it all," Howard said.
"He makes fun of me, calling me a taskmaster but the reality is, he works himself very hard, that's why he's had all this success for all these decades."
Inferno is out in cinemas from today, October 14. Read our review here.