As the outrage continues over the lewd comments made by US presidential candidate Donald Trump in 2005, TV show Saturday Night Live wasted no time in lampooning the Republican candidate for the second week in a row.
Actor Alec Baldwin once again portrayed the businessman - this time in a CNN interview with Brooke Baldwin (played by Cecily Strong).
Trump began by asking viewers: "Are you not entertained?" He said he was "apple-a-gising" for the offence his comments had caused, before adding "but more importantly, to the people who were turned on by them - I hear it's really 50:50".
Pressed as to why he would say "these horrible things", Trump replied that he was "a young, childish 59-year-old man" when he made the comments.
Baldwin's Trump proceeded to pour even more fuel on the flames, denigrating his fellow Republicans and boasting about his sexual prowess. After expressing his concern for people in Florida in the wake of Hurricane Matthew, Trump did not realise his mic was still open and continued with his crude comments.
CNN then cut to Democratic nominee Hillary Clinton's headquarters, where Saturday Night Live's Kate McKinnon reprised her role as Clinton - this time popping champagne and dancing to Kool and the Gang's Celebration.
Hillary Clinton has a message for women still voting for Trump. #SNLinManuel pic.twitter.com/c5lPrlWVr2

— Saturday Night Live (@nbcsnl) October 9, 2016
Saturday Night Live has a history of mocking politicians going back to Gerald Ford in the 1970s, portrayed by Chevy Chase as a clumsy bumbler after the President once tripped and fell down an airplane staircase.
A notable recent impersonation was Tina Fey, who was merciless as she portrayed Republican vice presidential candidate Sarah Palin in 2008 as clueless and unprepared.
Screen legend Robert De Niro has also hit out Trump's campaign and politics in a new video, saying he would like to "punch him in the face".
De Niro's scathing verbal attack on the Republican came in a video that was produced by entertainment company Anonymous Content for its #VoteYourFuture campaign but which was not used in the final star-studded edit.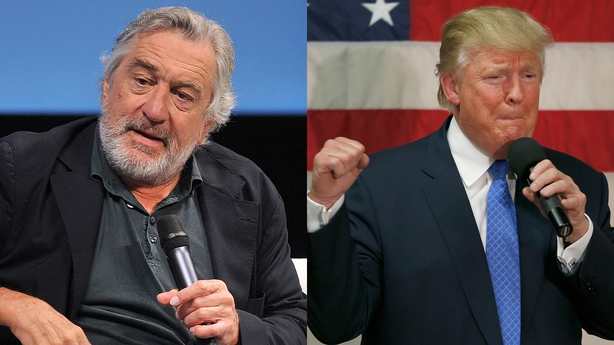 The clip was subsequently shown on US TV programme The Kelly File, hosted by Megyn Kelly on Fox News, and has since gone viral.
When asked "What do you care about?", double Oscar winner De Niro did not hold back, labelling Trump, among other things, as "a bull**** artist" and "a mutt who doesn't know what he's talking about".
The Taxi Driver, Raging Bull and Goodfellas star said that Trump "doesn't do his homework" and that he "doesn't care".
He added: "[Former US Secretary of State] Colin Powell said it best: he's a national disaster, he's an embarrassment to this country. It makes me so angry that this country has gotten to this point that this fool, this bozo, has wound up where he has.
"He talks about how he wants to punch people in the face. Well, I'd like to punch him in the face."
De Niro concluded: "This is somebody that we want for president? I don't think so. What I care about is the direction of this country, and what I'm very, very worried about is that it might go in the wrong direction, with someone like Donald Trump.
"If you care about your future, vote for it."
De Niro had filmed the video before a recording of crude comments Trump made about women in 2005 came to light on Friday.
Trump later declared "I was wrong and I apologise" after being caught on tape making lewd comments about a married woman he tried to seduce.
Here is my statement. pic.twitter.com/WAZiGoQqMQ

— Donald J. Trump (@realDonaldTrump) October 8, 2016
It is not the first time De Niro has come out swinging for Trump. At the Sarajevo Film Festival in August, De Niro compared the businessman to the disturbed character he played in Taxi Driver, Travis Bickle.
"What he has been saying is really totally crazy, ridiculous stuff that shouldn't be even... he is totally nuts," said De Niro.