John Byrne's essential telly for the coming week includes Marvel's Luke Cage, a documentary about Terry Wogan, and the return of The Fall
Saturday September 24
Winning Streak, RTÉ One 8.15pm
Great news for bus companies and banner makers across Ireland: Marty Whelan and Sinead Kennedy are back for the 27th run of the hugely popular National Lottery TV show.
Each week five players will be in a studio full of friends and relations hoping to win some fantastic cash prizes, holidays and cars. As ever, one lucky player will get the opportunity to spin the iconic wheel and win up to €500,000. We've all had worse weekends.
The Ray D'Arcy Show, RTÉ one 9.40pm
Dustin's old pal Ray D'Arcy returns for a second season of chat, and the aims this time around are to be looser, livelier and more interactive. Sounds more like a Saturday night out than one in!
Here's The O'Hoff from last season:
Sunday September 25
The Fall, RTÉ One 9.30pm & Thursday, BBC One 9pm
The dynamic duo of Gillian Anderson and Jamie Dornan reprise their roles as Detective Superintendent Stella Gibson and serial killer Paul Spector for a third season of Allan Cubitt's dark and intense psychological thriller.
Spector - ambushed at the climax of the previous season - is rushed to Belfast General Hospital where Dr Joe O'Donnell (Richard Coyle), Nurse Kiera Sheridan (Aisling Bea) and the staff engage in a blood-soaked fight to keep the killer alive.
Monday September 26
50 Ways to Kill Your Mammies, Sky 1 9pm
The bould Baz Ashmawy hits the road once again with his lovable Irish mammy Nancy. This time around they're joined by three mammies from the UK who are all looking for a bit of adventure in their golden years.
In the first episode, Baz takes the four ladies to Costa Rica for a host of death-defying escapades including an abseil down a 140-foot waterfall, navigating raging rapids, and taking 700 dogs for a walk. Though not all at once.
Tuesday September 27
Damned, Channel 4 10pm
This new six-part comedy series was created by Jo Brand and Morwenna Banks, and stars Brand alongside Alan Davies, Kevin Eldon, Georgie Glen, Himesh Patel, and Isy Suttie.
Every day, the team of dedicated social workers in Children's Services at Elm Heath council are faced with government cuts, huge levels of stress-related sick leave, useless temporary staff and an ever increasing client list. They are the Damned.
Here's a trailer from Sky Arts 1's Playhouse Presents pilot episode:
Wednesday September 28
John Connors: the Travellers, RTÉ One 9.35pm
Irish actor John Connors leads a team of Travellers on a ground-breaking research project. They've been tasked to research, document and collect Traveller history and folklore that will reside, at the completion of the project, in the national archives.
In episode one the team begins work by recording the experiences and stories close family relatives. Prominent among which are the personal tales of the bogey man of Irish Travellers, The Cruelty Man.
World of Weird, Channel 4 10pm
A team of intrepid reporters - is there any other kind? - present outlandish, extraordinary and unbelievable people, situations and phenomena from around the world.
In this first episode, Joel Dommett travels to Australia's Gold Coast to meet Pricasso: the world's only artist who paints with his penis. In Texas, Ayo Akinwolere meets members of America's vampire community. It's Eurotrash on a global scale!
Thursday September 29
Neven's Food Trail , RTÉ One 7pm
Neven Maguire is back for the ninth run of his grub-laden getaways, and this time he's heading for the Basque Country and La Rioja, two regions in Northern Spain which are renowned for their cuisine.
He has a particular affinity with this part of the Iberian peninsula: as a young chef, he worked at Arzak, a famous restaurant in San Sebastian which has held three Michelin stars since 1989 - the only restaurant in Spain to have had that many tyre marks for nearly 40 years.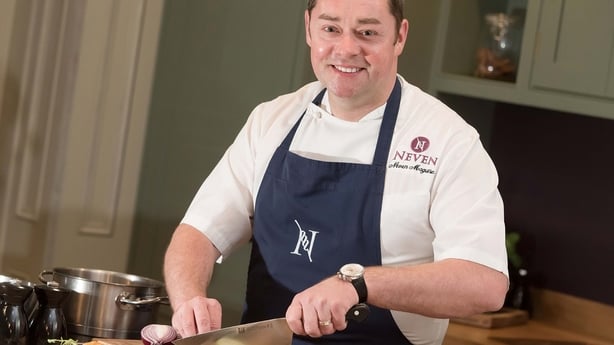 Friday September 30
Sir Terry Wogan Remembered: Fifty Years at the BBC, BBC One 9pm
This documentary offers an affectionate celebration of Terry Wogan's contribution to the BBC, where he spent the vast bulk of his remarkable broadcasting career.
Full of classic moments featuring much-loved shows, from Blankety Blank to The Eurovision Song Contest, it also reveals the private side of a man whose values and beliefs (it says here) laid the foundations for his extraordinary success.
Contributors include Jeremy Vine, Ken Bruce, Alesha Dixon, Michael Grade, Eamonn Holmes, Katie Melua, Dermot O'Leary, Len Goodman, Graham Norton, Fearne Cotton and Rob Brydon.
The Graham Norton Show, BBC One 10.35pm
The king of couched conversation is back for more chat and fun and Graham Norton's first line-up impressively includes Justin Timberlake, Anna Kendrick and Daniel Radcliffe. That London must be an amazing place as it's full of famous people.
Here, Henry Cavill, Ben Affleck and Amy Adams Do the Batman voice:
Box Set of the week
Marvel's Luke Cage, Netflix
An offshoot of the superb Jessica Jones, which was one of last year's best TV shows, Mike Colter stars as Luke Cage, a former convict with superhuman strength and unbreakable skin, who now uses his gifts to crush rather than create crime.
Already indestructible, Cage is no slouch in the beefcake stakes and Colter put on 30lb of muscle to play the part. The results are impressive. He is The Incredible Bulk.
As usual, Netflix are streaming the entire first season from Friday. Weekend binge sorted!