Bono has said that the Republican nominee for the US Presidency Donald Trump is "potentially the worst idea that ever happened to America."
Speaking on CBS show This Morning on Tuesday, the U2 frontman said, "Look, America is like the best idea the world ever came up with. But Donald Trump is potentially the worst idea that ever happened to America. Potentially."
"This is really dangerous," he added, describing Trump as "the antithesis of the United States."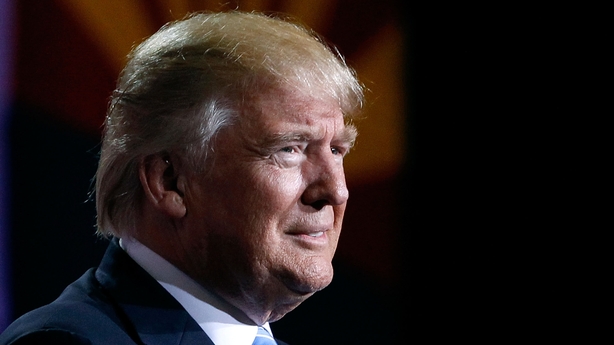 The politically-active singer gave Ireland and Britain as examples of "great countries" and suggested that America is different because it's "an idea", one that Trump is "trying to hijack."
"That idea is banded up in justice and equality for all - equality and justice for all, you know," Bono said. "I think he's hijacked the party. I think he's trying to hijack the idea of America. And I think it's bigger than all of us. I think it's - it's - this is really dangerous."
Jimmy Fallon defends 'soft' interview with Trump
Bono has often weighted into US politics and has previously supported the Presidential campaigns of Bill Clinton and Barack Obama. 
We need your consent to load this YouTube contentWe use YouTube to manage extra content that can set cookies on your device and collect data about your activity. Please review their details and accept them to load the content.Manage Preferences
Trump, however, has a poor record when it comes to rock stars. R.E.M. and Neil Young are among the many big names who have condemned Trump for using their songs on the campaign trail.
Many Hollywood stars have also taken a dim view of Trump with the likes of Oscar-winning actress Meryl Streep lampooning the billionaire businessman. 
Earlier this year, director Michael Moore urged Irish people to fight Trump with humour on the Presidential hopefuls planned - and later aborted - visit to Ireland.
Speaking to RTÉ Entertainment, Moore, director of Bowling For Columbine and Where to Invade Next?, said: "I would ask the Irish in the weeks leading up to his visit to really think about how to use the great Irish sense of humour, satire, ridicule to take the p*** out of him while he's here. You would do all of us a great service." 
Film-maker #MichaelMoore wants us to "take the p***" out of #DonaldTrump during Irish visit https://t.co/WBoE3Bdr65https://t.co/QObZilPZnS

— RTÉ Entertainment (@RTE_Ents) June 14, 2016