Amy Huberman, who stars in the new RTÉ2 comedy drama Can't Cope, Won't Cope, has said she likes to work on a mixture of comedy and drama projects as its "good for the acting head to flex both muscles."
The actress told RTÉ Entertainment she was delighted to return to comedy after starring in hits such as Threesome and Moone Boy, "I love doing comedy, I really do, it's a different type of energy, but it's really great to be able to do both if you have the opportunity to do both.
"The last two jobs I've done have been very 'drama' which is nice because it had been a long time since I'd done one, and it's good for the acting head to flex both muscles."
Huberman also spoke about balancing her acting career with her family life saying "I miss my family when I'm working, but I love what I do and no one's forcing me to do it. So you kind of have to be where you are, when you're there, and stop torturing yourself."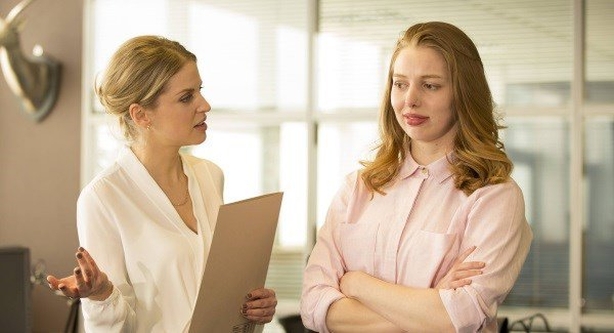 Can't Cope, Won't Cope is a new six-part series about two Cork girls whose lives revolve around partying in Dublin, but when one of them begins to spiral out of control, a divide comes between them.
The series stars A Date for Mad Mary's Seána Kerslake, and Huberman heaped praise on the up and coming star describing her as an "incredibly talented actress".
"I had most of my stuff to do with Seána and she's brilliant, and she had a lot to do; I was only a part-timer in this. She's brilliant; funny bones herself, great drama bones, so it was great to see her do her thing, so I was happy to come aboard," Huberman said.
Can't Cope, Won't Cope premieres on RTÉ2 on Monday night at 10pm.