Todd Phillips, director of The Hangover franchise and the new comedy drama War Dogs, has said that he'd love to shoot a film in Dublin.
War Dogs is based on a true story about two unlikely international arms dealers, played by Jonah Hill and Miles Teller.
To give the film an authentic feel, Phillips decided to film in locations around the world, including Jordan, Morocco and Romania, and it looks like the director would like to add Ireland to his shooting wish-list.
Speaking to RTÉ Entertainment in London, the New York-born director said: "It's such a beautiful country, and Dublin in particular is such a great city.
"We were there a couple of times on junkets and I got to spend some time in Dublin.
"It really is one of the most cinematically gorgeous cities so I would love to shoot there."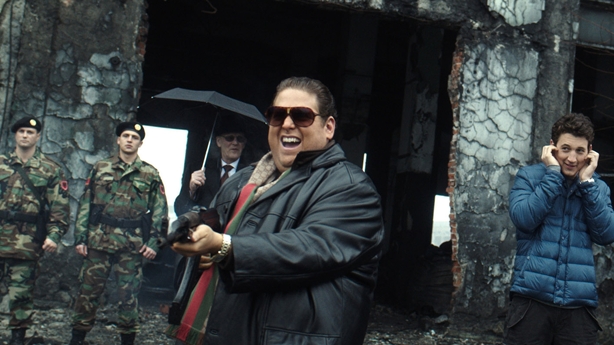 Jonah Hill in War Dogs
The director, whose previous works include the comedies Old School and Starsky & Hutch, also spoke about how he enjoyed the change in gear with his latest film.
"It's a change, mostly tonally from the movies I've made before," he said. "Tonally it's more like a dramatic comedy or a comedic drama, but it was fun."
War Dogs is out in Irish cinemas on Friday, August 26.
We need your consent to load this YouTube contentWe use YouTube to manage extra content that can set cookies on your device and collect data about your activity. Please review their details and accept them to load the content.Manage Preferences