Jennifer Lawrence has been named film's best paid female star for the second year in a row - largely due to her share of the box office receipts from the final movie in The Hunger Games franchise.
The Oscar-winning star topped the annual Forbes' rich list again after she earned an estimated $46 million over the past twelve months.
Lawrence, who's aged 26, is also the youngest actress on the list which looked at earnings between June 2015 and 2016.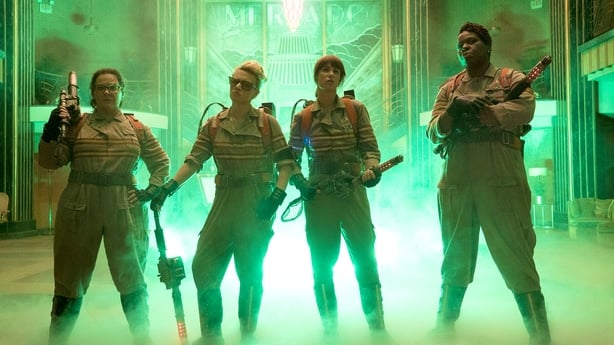 The Ghostbusters reboot starred an all-female cast
Although her earnings dropped by over 11% last year from $52 million, it was still enough to put her top of the pile ahead of Melissa McCarthy, whose income was up by 10% thanks in no small part to a large payment for starring in Paul Feig's Ghostbusters reboot.
McCarthy's estimated earnings have risen by $10 million dollars since the 2015 list was published.
The other actresses who made up the top five were Scarlett Johansson ($25m), Jennifer Aniston ($21m), and Chinese star Fan Bingbing ($17m).
Other familiar faces in the top include Charlize Theron, Amy Adams, Julia Roberts and Mila Kunis while the only new addition to the list is Bollywood actress Deepika Padukone, who made it to 10th place with earnings of $10 million.