Irish actress and producer Roma Downey has received a star on the Hollywood Walk of Fame.
Derry-born Downey, who is both an Emmy and Golden Globe-nominated actress and producer, played the lead role of Monica the angel on the CBS television series 'Touched by an Angel'.
Downey's name has been unveiled right beside the star of her husband, TV producer Mark Burnett, on the famed walk on Hollywood Boulevard.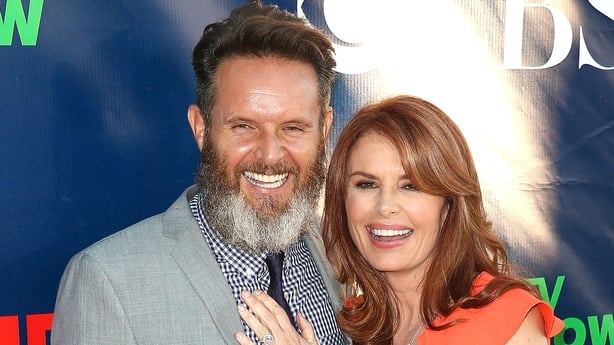 Downey, alongside husband Mark Burnett
Speaking at the unveiling, the 56-year-old said, "This is a great day, a great day for the Irish – 25 years ago I came to America from Ireland looking for the American dream".
"I came with my heart full of hope", she said.
"The American dream meant to me freedom and opportunity and like many immigrants before me this great country has offered the opportunity to make my dreams come true".
Congrats to #BENHUR producer @RealRomaDowney on her Hollywood Walk of Fame Star!https://t.co/PeT9xGBRWi

— Ben Hur (@BenHurMovie) August 12, 2016
Downey, who alongside her husband is producing this year's remake of the classic film 'Ben Hur' said, "I graciously and humbly accept this".
"I dedicate it not just to the people of Derry but to anybody who walked down this boulevard with a dream in their heart".
Throughout her career she has played roles such as JFK's widow Jackie Kennedy Onassis and Mary, mother of Jesus, in addition to production credits which include 3-time Emmy-nominated series 'The Bible'
The Hollywood Walk of Fame is made up of over 2,500 stars embedded into the ground along the path, which stretches for 15 blocks.