Beyoncé leads the nominations for the MTV Video Music Awards for her film-album Lemonade.
The singer, who played Croke Park in Dublin recently, is in the running for 11 awards at MTV's annual extravaganza, which will take place on August 28 in New York's Madison Square Garden, a shift from the more common venue in Los Angeles.
Adele came in second with eight nominations. All but seven were for her single Hello, which, with more than 1.6 billion views, is the fifth most-watched video ever on YouTube.
Hello, filmed by the Canadian director Xavier Dolan, shows Adele on the phone with a younger version of herself and was the first music video created for the high-resolution IMAX format.
We need your consent to load this YouTube contentWe use YouTube to manage extra content that can set cookies on your device and collect data about your activity. Please review their details and accept them to load the content.Manage Preferences
The song is the running for Video of the Year against Beyoncé's Formation, the most overtly political work of her career as she aligned herself with the Black Lives Matter protest movement.
In one scene in the video for Formation, a row of police officers is shown with their hands in the air with a graffitied wall reading, "Stop shooting us."
The video riled some conservative commentators and law enforcement groups in the US who voiced anger when Beyoncé performed the song at the Super Bowl, the most watched television event of the year.
It was her first single from her album Lemonade, which she released in April to accompany a film that she made for HBO.
The album and film are full of references to infidelity as well as forgiveness, drawing speculation that Beyoncé's husband, rap mogul Jay Z, had been unfaithful.
Other nominees for Video of the Year at this year's VMAs include Kanye West's controversial Famous, in which the rapper boasts that he made Taylor Swift famous.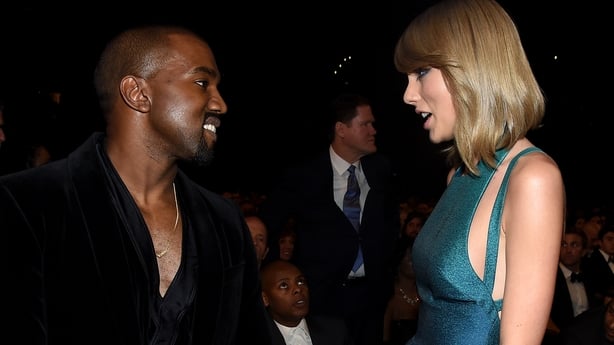 Kanye and Taylor: "Didn't we used to be mates?"
The video features a naked woman, who resembles Swift, in bed with West as well as nude doppelgangers of other celebrities including Republican presidential candidate Donald Trump.
Also in the running for the top prize at the VMAs are two videos dominated by dancing - rapper Drake's Hotline Bling and pop celebrity Justin Bieber's Sorry.
Bieber's Sorry is the sixth most-watched video ever on YouTube, closely trailing Adele's Hello, which was released on the same day last year.