John Cho, who is back as Sulu in the new Star Trek movie, has told RTÉ Entertainment that he hopes George Takei, who played the USS Enterprise helmsman in the original series, will come to appreciate why the character is portrayed as gay in the new film.
Earlier this month, Takei said that it was "really unfortunate" that Sulu is revealed as being gay in the latest big-screen instalment of the franchise, and that a new gay character should have been created instead.
The 79-year-old actor said that he learned about his character's new sexuality after a receiving a phone call from Cho.
Takei, who is openly gay, said he tried to convince director Justin Lin to create a new gay character rather than "twisting" the ideas of the show's creator, Gene Roddenberry.
He added that Roddenberry was a "strong supporter of LGBT equality" but that the late writer and producer envisaged Sulu as a heterosexual.
We need your consent to load this rte-player contentWe use rte-player to manage extra content that can set cookies on your device and collect data about your activity. Please review their details and accept them to load the content.Manage Preferences
Watch RTÉ Entertainment's interview with John Cho and co-star Karl Urban
Responding to Takei's reservations, Cho told RTÉ Entertainment: "Roddenberry is not here to speak for himself but I do think it's an extension personally of what he set out to portray in Star Trek, which was infinite diversity and infinite combinations. I see where George is coming from and I absolutely respect it and to some degree, I think he may be misinformed.
"I think he thinks that Sulu may be coming out of the closet and I think the implication is that he was never in the closet which I think is maybe a better revelation than what he assumes."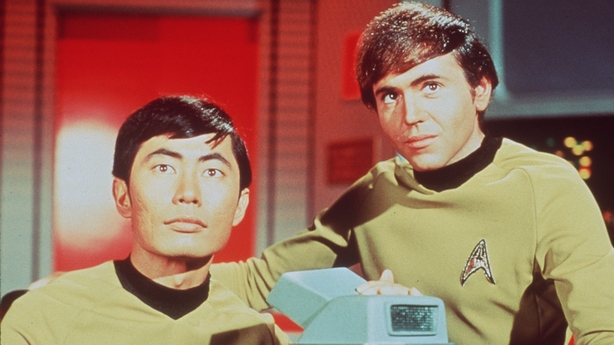 George Takei as Sulu and Walter Koenig as Chekov in the Star Trek TV series
Cho also revealed how much of an impact seeing Sulu in the original TV series had on him when he came to the US from South Korea as a child.
"As a kid, seeing George was huge for me," he said. "I came to the states in 1978 and I was just a kid in Houston, Texas and to some extent I struggled with racism and to see this diversity in this cast was a revelation for me.
"In particular to see George because I just wasn't seeing anyone who looked like me on TV or in the movies so that was very special, it meant a lot to me and when I got the role in the first film it had extra significance and extra weight to be able to connect to that moment in my childhood."
Read RTÉ Entertainment's review of Star Trek Beyond and watch our interview with Zachary Quinto, Chris Pine and Trekkie newcomer Sofia Boutella.
Star Trek Beyond is in cinemas this Friday, July 22