Ghostbusters star Leslie Jones has called on Twitter to take more action against online abuse after she was subjected to racist tweets.
Jones said she had made the decision to share the racist tweets so people could "see the bs" she had been subjected to online. The Saturday Night Live star said she was "scared for our future".
"I feel like I'm in a personal hell," she wrote. "I didn't do anything to deserve this. It's just too much. It shouldn't be like this. So hurt right now."
I leave Twitter tonight with tears and a very sad heart.All this cause I did a movie.You can hate the movie but the shit I got today...wrong

— Leslie Jones (@Lesdoggg) July 19, 2016
"Twitter I understand you got free speech I get it," she said. "But there has to be some guidelines when you let spread like that.
"You can see on the profiles that some of these people are crazy sick. It's not enough to freeze Acct. They should be reported."
I'm not stupid to not know racism exists. And I know it will probably live on way after me. But we have to make people take responsibility

— Leslie Jones (@Lesdoggg) July 19, 2016
The hashtag LoveForLeslieJ began trending with Ghostbusters director Paul Feig and co-writer Kate Dippold among those who tweeted their support for Jones.
Leslie Jones is one of the greatest people I know. Any personal attacks against her are attacks against us all. #LoveForLeslieJ @Lesdoggg

— Paul Feig (@paulfeig) July 18, 2016
I love @lesdoggg
Not only brilliant but one of the kindest people I've ever met

— Katie Dippold (@katiedippold) July 18, 2016
Twitter boss Jack Dorsey also asked the star to direct message him.
@Lesdoggg Hi Leslie, following, please DM me when you have a moment

— Jack (@jack) July 19, 2016
A Twitter spokesman said: "This type of abusive behaviour is not permitted on Twitter, and we've taken action on many of the accounts reported to us by both Leslie and others.
"We rely on people to report this type of behaviour to us but we are continuing to invest heavily in improving our tools and enforcement systems to prevent this kind of abuse.
"We realise we still have a lot of work in front of us before Twitter is where it should be on how we handle these issues."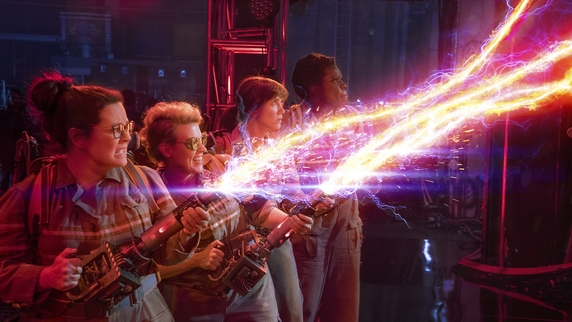 The new Ghostbusters is a remake of the 1984 Bill Murray and Dan Aykroyd movie with an all-female line-up of Jones, Melissa McCarthy, Kristen Wiig and Kate McKinnon.
The announcement of the new cast was met with online abuse and criticism, while the film's trailer attracted more than 900,000 'dislikes' on YouTube - a record number for a movie trailer on the website.