The rumours it appears were true. Wicklow star Jack Reynor has lost out on the chance to play a young Han Solo to American actor Alden Ehrenreich.
Ehrenreich, who recently impressed in the Coen Brothers' movie Hail, Caesar!, beat out competition from 3,000 other young actors, including Reynor, to take the lead part in the forthcoming standalone movie about the charming space smuggler.
It was announced at a Star Wars Celebration event in London on Sunday afternoon that Ehrenreich would take the role, and he was brought out in front of the crowd of 4000 to a rapturous reception.
Alden Ehrenreich will play a young Han Solo
The announcement comes after months of speculation, and weeks after Harrison Ford himself advised any young actor going for the role to "not do it".
Reynor was tipped for the role, but in recent weeks Ehrenreich was believed to be the favourite.
Having had a pool of 3000 young actors to chose from, the shortlist for the role was rumoured to be narrowed down to Ehrenreich, Transformers star Reynor, and Eddie the Eagle and Kingsman actor Taron Egerton.  
Ehrenreich said, "I read the sides and I loved them. I auditioned for six months. The coolest part was I went on the Falcon for a chemistry test with Chewbacca. It was unbelievable. It was more exciting than nerve-racking."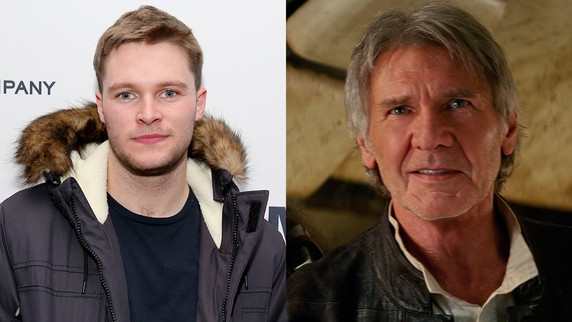 Sadly, Jack has lost out on the role as Han Solo
The news that Ehrenreich had landed the role was broken by Star Wars Episode VIII director Rian Johnson and the directors of the yet to be named Han Solo film, Phil Lord and Chris Miller, as well as Lucasfilm president Kathleen Kennedy.
Speaking at the Star Wars Celebration, Miller said "We thought this was the hardest casting challenge of all time. They were the biggest boots to fill".
We need your consent to load this Facebook contentWe use Facebook to manage extra content that can set cookies on your device and collect data about your activity. Please review their details and accept them to load the content.Manage Preferences
In attempting to cast Han Solo, Lord and Miller remarked that despite considering over 3000 people, they said that they "cast the first person who walked through the door".
"Sorry Kathy - we wasted your money", said Miller.
"I am going to take it out of your salary," replied Kennedy.
The Han Solo movie will focus on the young Solo before he joined the Galactic Rebellion and is due in Irish cinemas in May 2018.