Danny Dyer has admitted to nerves about his forthcoming wedding despite leaving the preparations to his fiancee.
The EastEnders star opened up about his imminent marriage to childhood sweetheart Joanne Mas.
Dyer told Hello! magazine: "You'd think that I would be prepared for my own wedding day, but I am very nervous about it."
The 38-year-old actor, who is a real East Ender, has become a favourite with viewers for his award-winning portrayal of Queen Vic landlord Mick Carter.
Dyer is having a Spanish-themed wedding in the English countryside, but he is not in charge of the big day.
The Londoner said: "I finally understand the meaning of the word 'bridezilla'. The stress that Jo seems to be under is off the scale."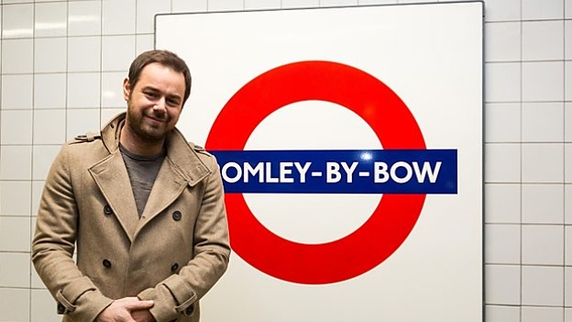 Maybe it's because he's a Londoner, innit!??
The couple's two-year-old son Arty will be a pageboy and as the September wedding draws near, Dyer is contemplating his attire.
"I am only now starting to think about my whistle," he said, using the abbreviated term for Cockney rhyming slang's 'whistle and flute', meaning 'suit'.
Dyer continued: "I want to go for a Sean Connery vibe. I love the 1960s and would love a '60s-style suit with a crisp white shirt and skinny black tie."
The actor has no idea what his bride will be wearing. "I have an image in my head of how I would like Jo to look," he said.
"She would be in a dress with a big skirt, bare shoulders, no veil, with her hair down and quite wild, maybe with a tiara on top."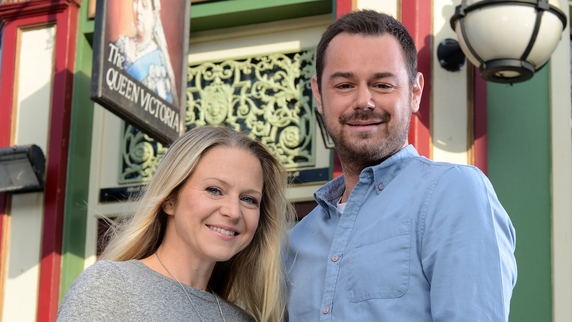 Co-star Kellie Bright and Dyer outside the Queen Vic
He continued: "She always looks beautiful so whatever she wears, I know I won't be disappointed."
Despite taking a back seat on the wedding planning, Dyer has tried to inject a bit of East End culture.
"I have suggested having a stylish version of pie and mash with liquor and chilli vinegar on a spoon.
"I was going to have jellied eels but I'm not sure that everyone will like them. But we may have mini ham, egg and chips, which is what I was brought up on."
Dyer's long-term partner surprised him last year when she popped the question on Valentine's Day.
The couple, who met at school when they were both 14, have three children together: Dani, Sunnie and little